Salazar Bakery: Everything You Should Know
Salazar Bakery is the Home of Oriental Delicacies. Salazar Bakery is located at 783 Ongpin Street, Manila, open since 1947.


Salazar Bakery offers a wide variety of crowd-favorite hopia, traditional pastries, and freshly baked bread. If you're ever in Binondo, Salazar Bakery is a must-visit! This famous store is known for its delicious Chinese snacks and treats.
They have friendly staff, and an inviting Chinese atmosphere makes it the perfect place to take a break from exploring the city. Salazar Bakery is just a few minutes walks from Quiapo Church. If you're doing a Binondo food tour, visit Salazar bakery.
Salazar Bakery Branches
Salazar Bakery has been expanding to cater to more people. They also have branches in different malls in Metro Manila.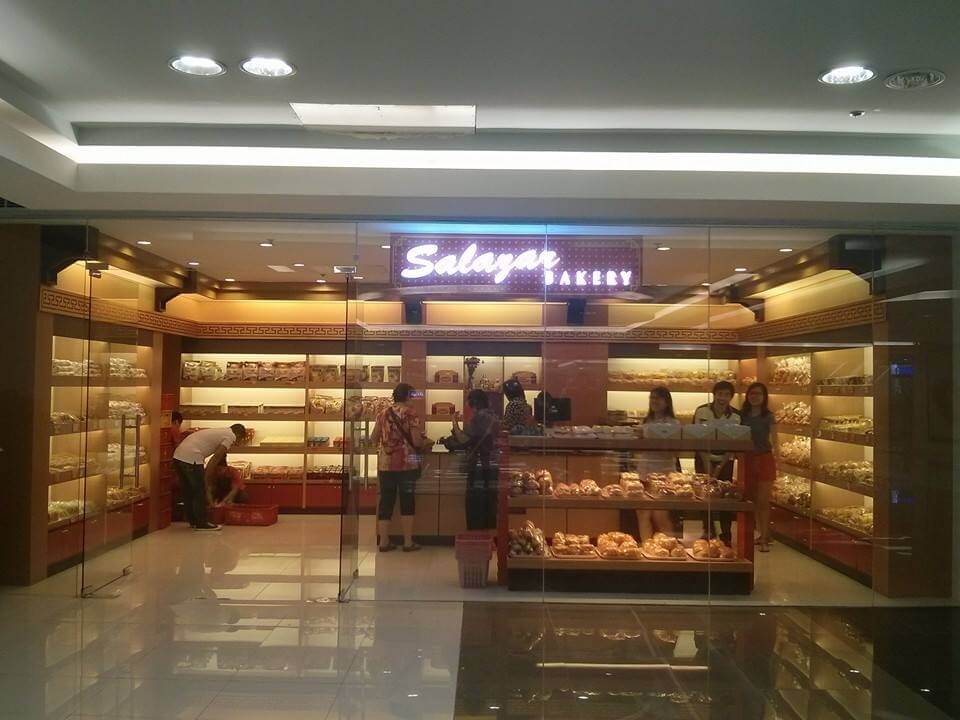 Here is the complete list of Salazar Bakery branches as of April 2022:
Salazar Bakery – ONGPIN
779-785 Ongpin st. Santa Cruz, Manila
287331397 / 287331392
Open from 6:00 am to 7:00 pm
Salazar Bakery – SM MANILA
Lower Ground Floor, SM Manila, Manila City
09462648393
Open from 10:00 AM to 08:30 pm
Salazar Bakery – SM NORTH EDSA
Foodcourt Level, SM North Edsa, Quezon City
09093136469
Open from 10:00 AM to 09:30 pm
Salazar Bakery – FESTIVAL MALL
Lower Ground Level, Parkway Entrance, Festival Mall, Muntinlupa City
09462648401
Open from 10:00 AM to 09:00 pm
Salazar Bakery – FARMERS PLAZA
2nd Level, Farmers Plaza, Cubao, Quezon City
09093136481
Open from 10:00 AM to 08:30 pm
What is Salazar Bakery's Bestsellers?
Hopia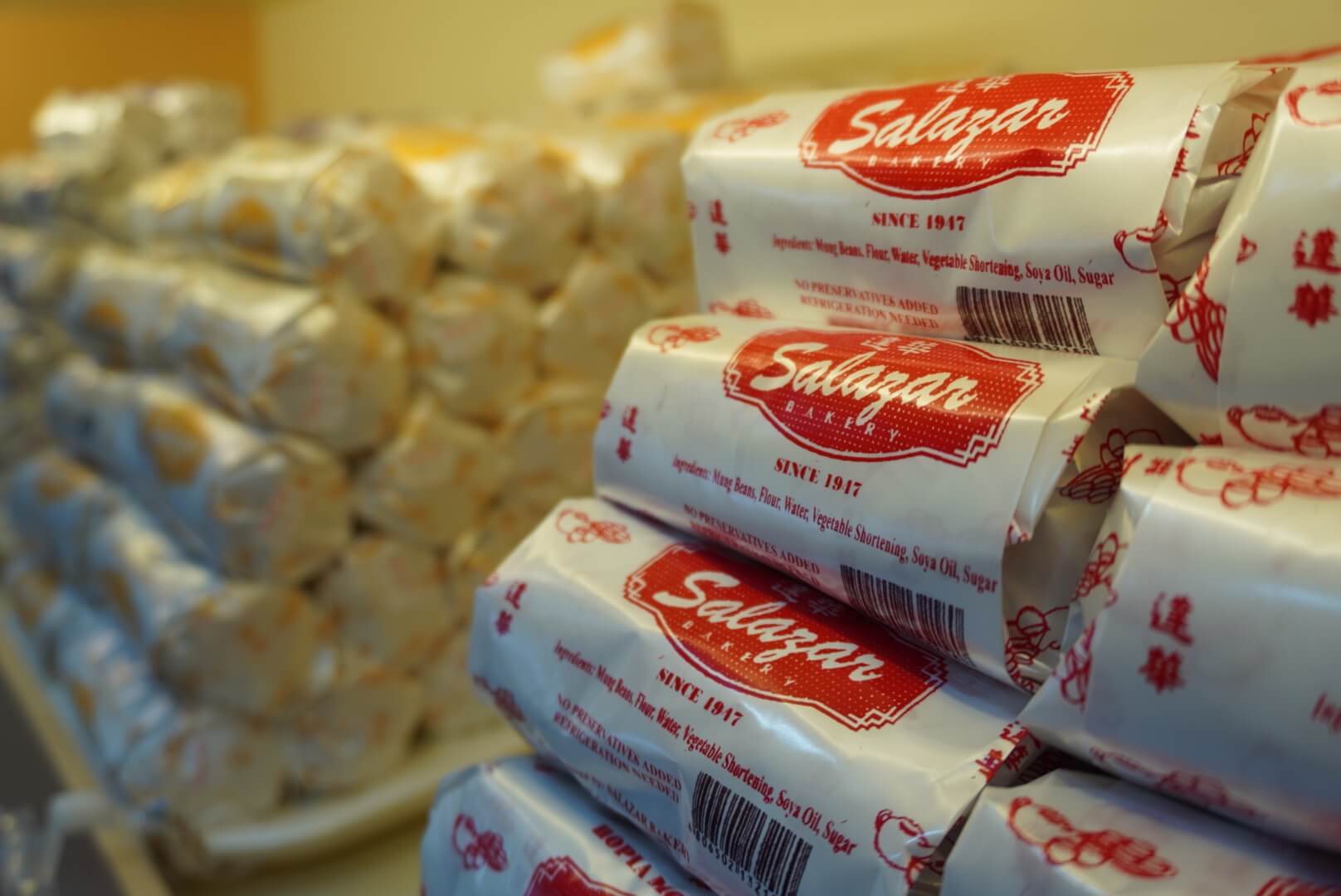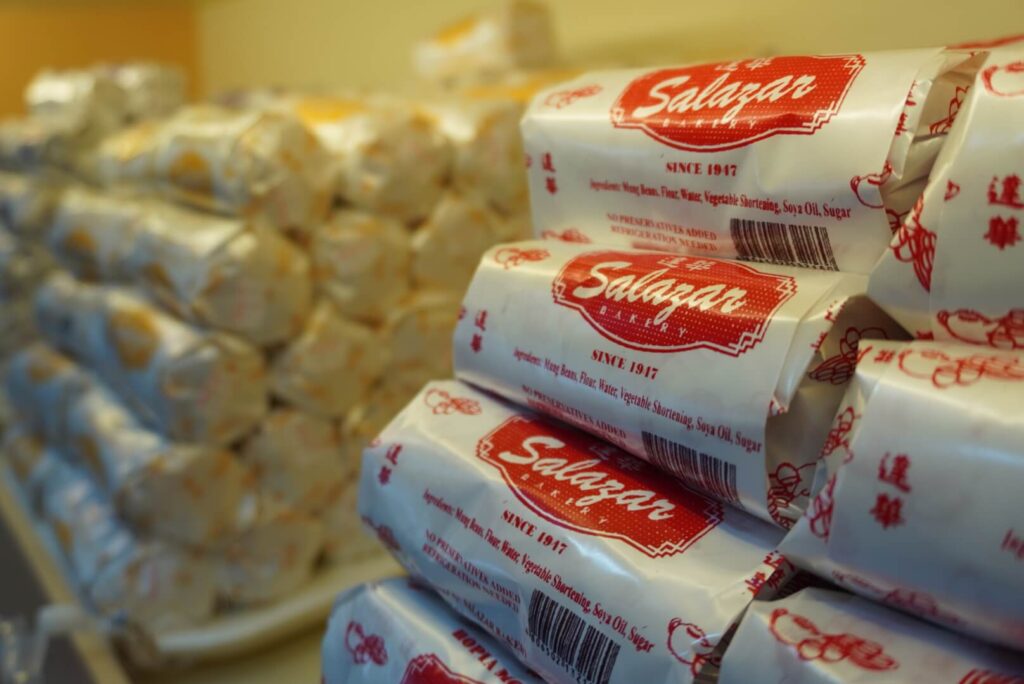 Hopia is popular in the Philippines. It is a baked pastry filled with either mung bean paste or ube.
Salazar Bakery is well-known for its Hopia, which comes in many different flavors, including Mongo, Baboy (pork), Black Mongo (chocolate), and Ube (purple yam).
Hopia is usually round or rectangular, and it has a flaky crust. Mongo is delicious and easy to eat, making it a popular choice for snacks and dessert.
Hopia Dice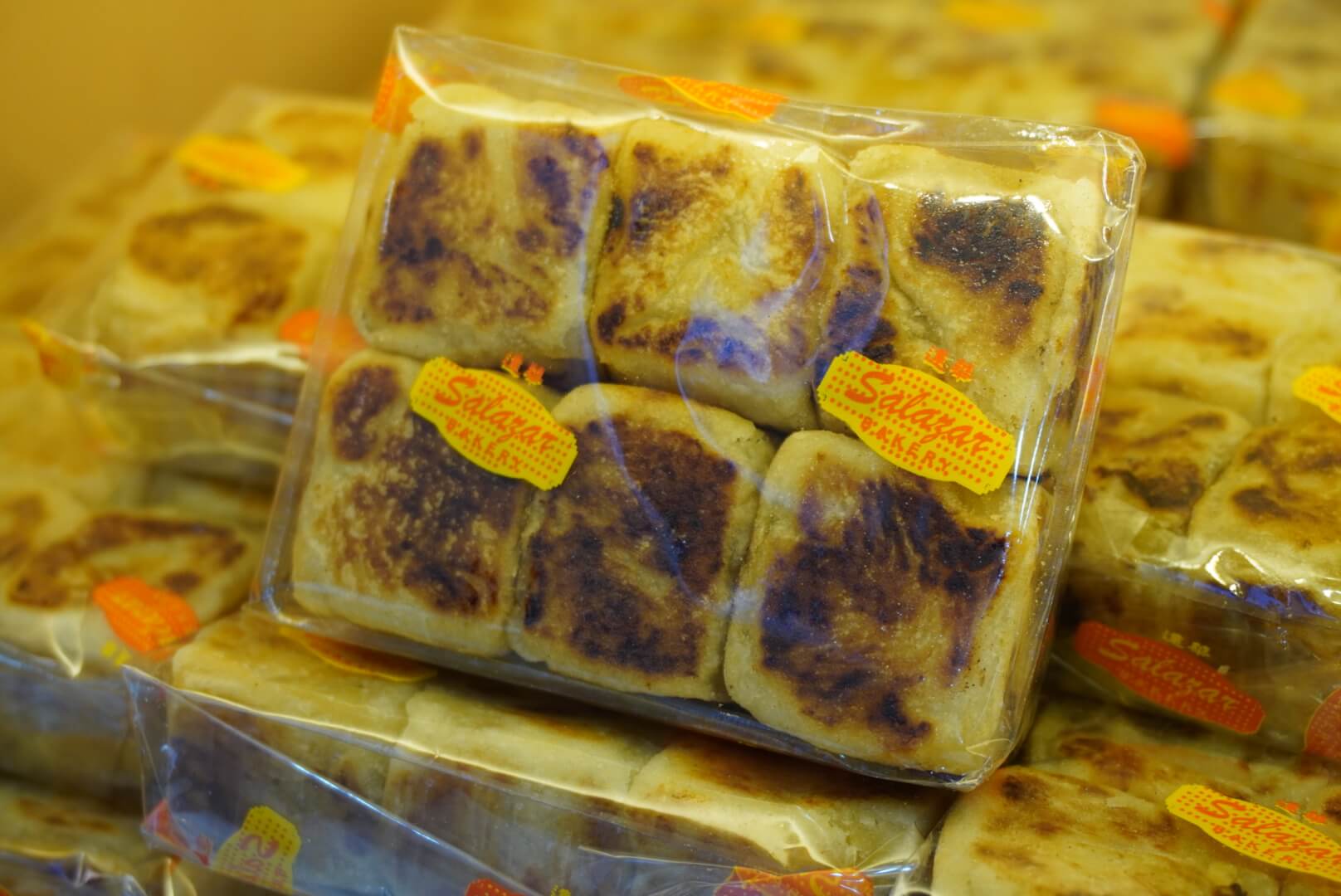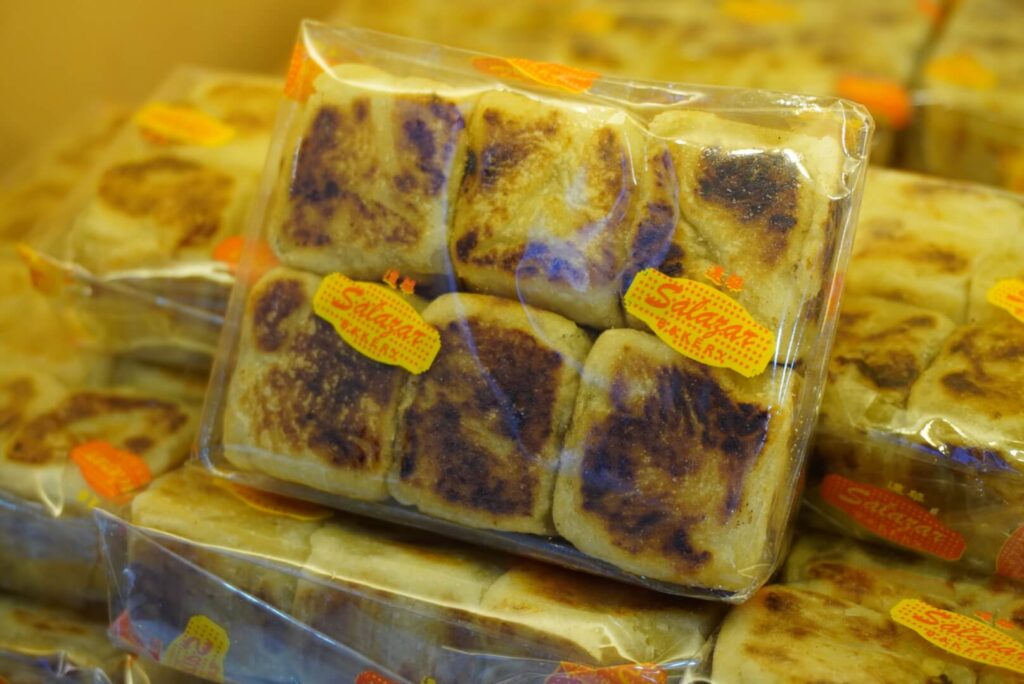 Hopia Dice is one of the bestsellers of Salazar Bakery. It is a bite-sized pastry usually filled with sweet bean paste and coated with a layer of flaky pastry.
Hopia Dice is delicious because of the combination of sweet and savory flavors. The bean paste filling is rich and creamy, while the flaky pastry adds a lovely crunch to each bite. Hopia Dice is also versatile and can be enjoyed as a snack or dessert.
If you haven't tried Hopia Dice before, we urge you to stop by Salazar bakery and try it. You won't be disappointed!
Lotus Cream Pastry with Salted Egg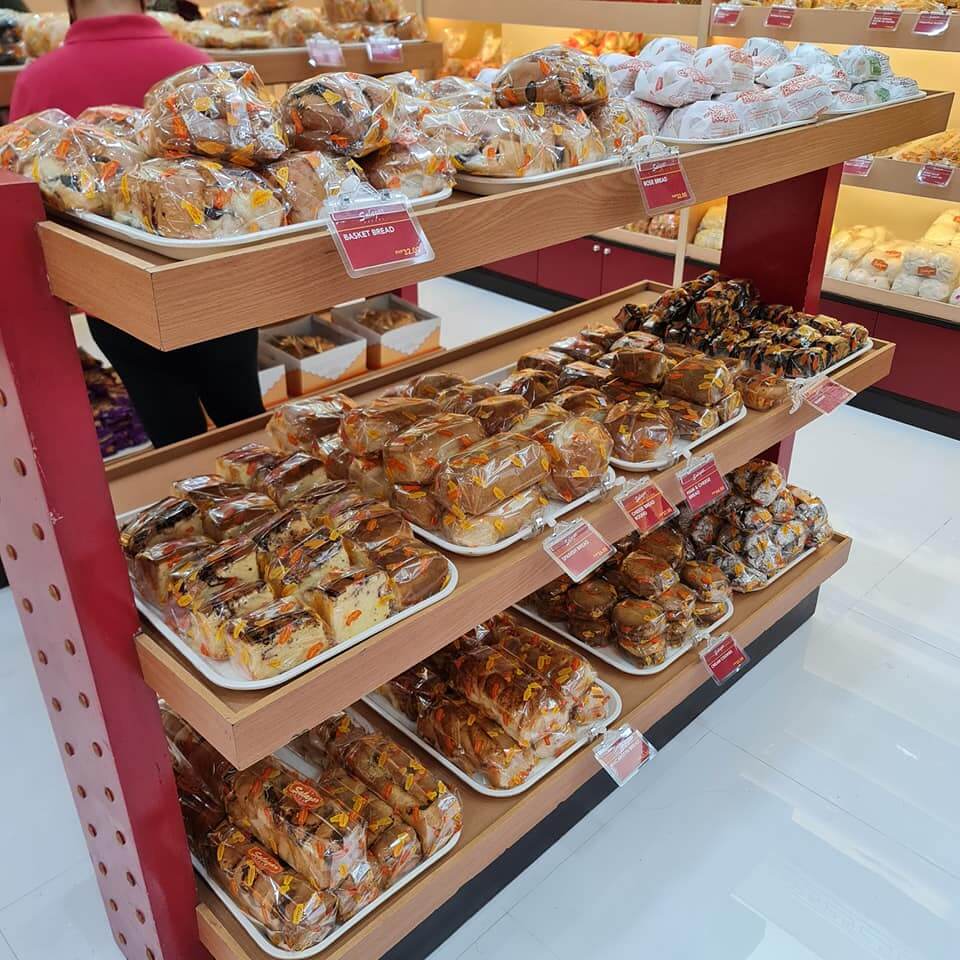 Salazar Bakery is home to some of the most delicious and unique pastries you will ever taste.
These Lotus Cream Pastries with Salted Egg are no exception! The filling consists primarily of ground lotus seeds, boiled before being mixed into a paste that resembles cream cheese consistency; it's then baked until golden brown. The pastries are then filled with this Lotus cream filling, and salted egg yolk is placed in the center.
These Lotus Cream Pastries with Salted Egg are a must-try when visiting Salazar Bakery!
Asado Roll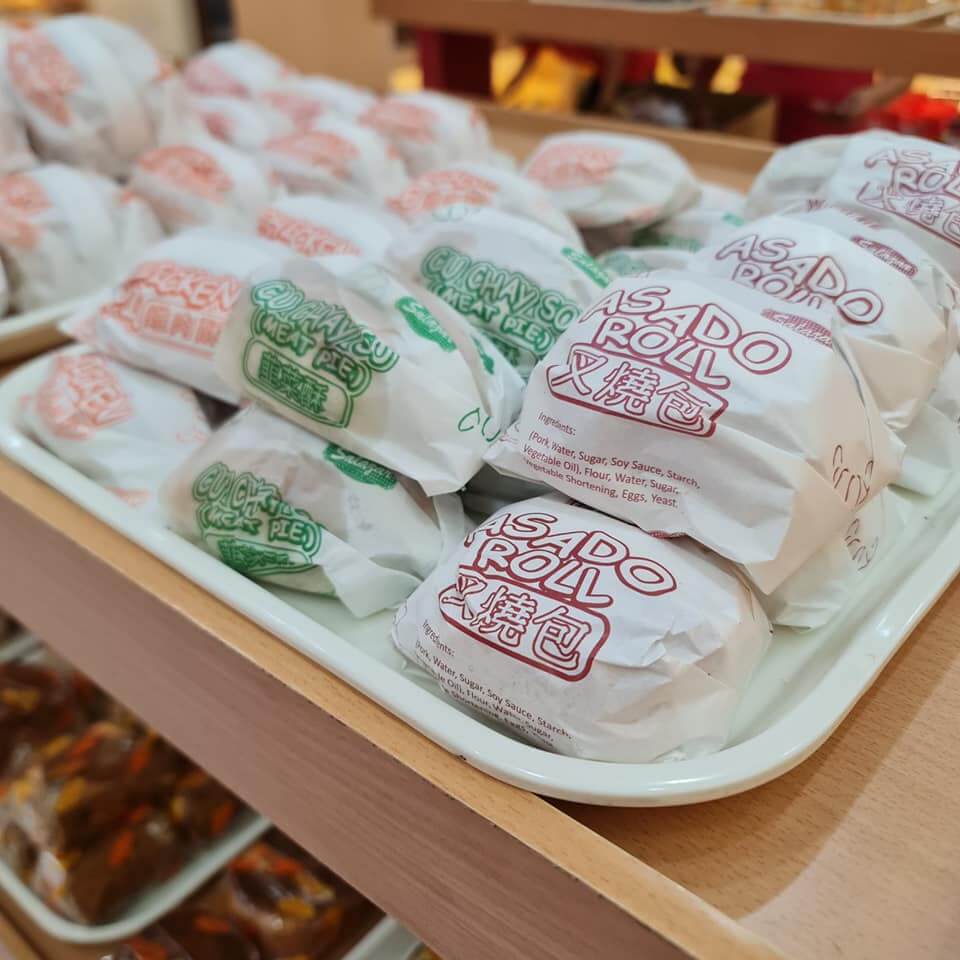 Asado Roll is a type of bread roll with sweet and savory Asado filling. The Asado roll from Salazar Bakery takes this classic dish and gives it a delectable twist. It is made with a filling of stewed pork, and the bread is typically fluffy and light. These can be eaten as a snack or as a meal.
You can also try their Asado Bread Box which is a fusion between Asado Siopao and dinner rolls into one. This is another crowd favorite.
So next time you're in the mood for something savory and satisfying, try the Asado Bread Box from Salazar Bakery. You won't be disappointed.
Tikoy Rolls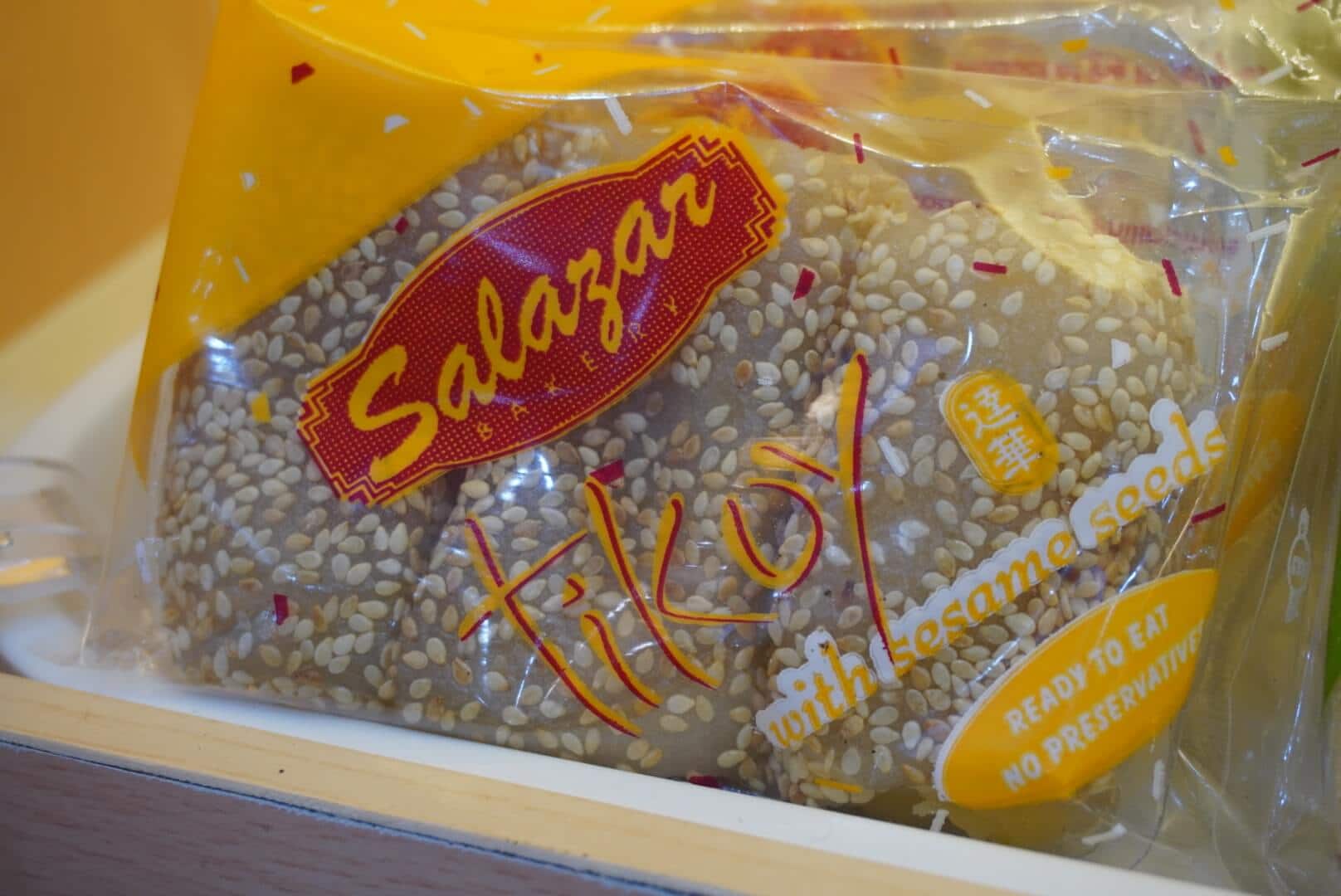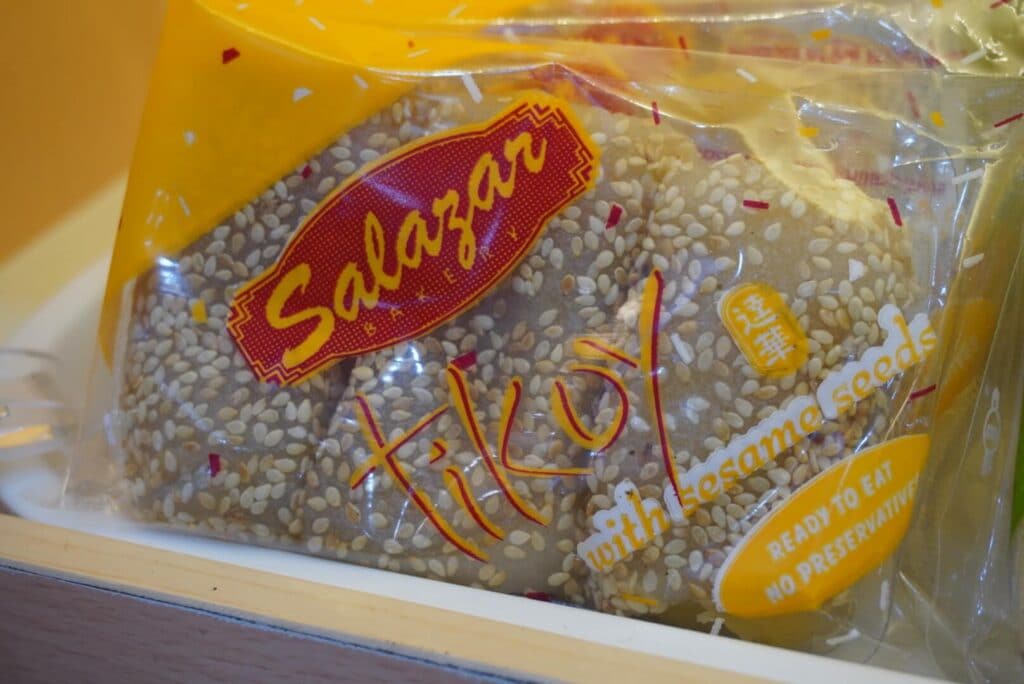 Tikoy rolls is a type of tikoy snack that is pre-rolled and ready to eat. The tikoy roll of Salazar Bakery is a crowd favorite. They are typically made with mongo filling and a sesame seed crust, although other variations may include peanuts or other fillings.
Tikoy rolls are a popular snack or dessert and are often eaten during the Chinese New Year celebration. But because of its popularity, they now serve it year-round.
When can you buy Mooncake and Tikoy in Salazar Bakery?
Mooncake
Mooncake is a dessert that is popular in many Asian cultures. It is typically made of dense pastry dough filled with a sweet filling such as lotus seed paste or red bean paste. Mooncakes are often round or moon-shaped, and they are traditionally eaten during the Mid-Autumn Festival.
Mooncakes are delicious because of their rich flavor and smooth texture. The fillings are sweet and fragrant, making mooncakes irresistible to many people. Mooncakes are often served with tea, making a great after-dinner treat.
If you're looking for delicious mooncakes, check out Salazar Bakery. They specialize in mooncakes that are both traditional and modern. Salazar's mooncakes are made with premium ingredients and come in various flavors to suit everyone's taste.
Mooncake flavor includes White Lotus Cream, Sweet Mixed Nuts, Lotus Cream, and Black Mongo.
Regular-Sized Mooncakes are usually available around August and September. Their Mini mooncakes are available all year round.
Tikoy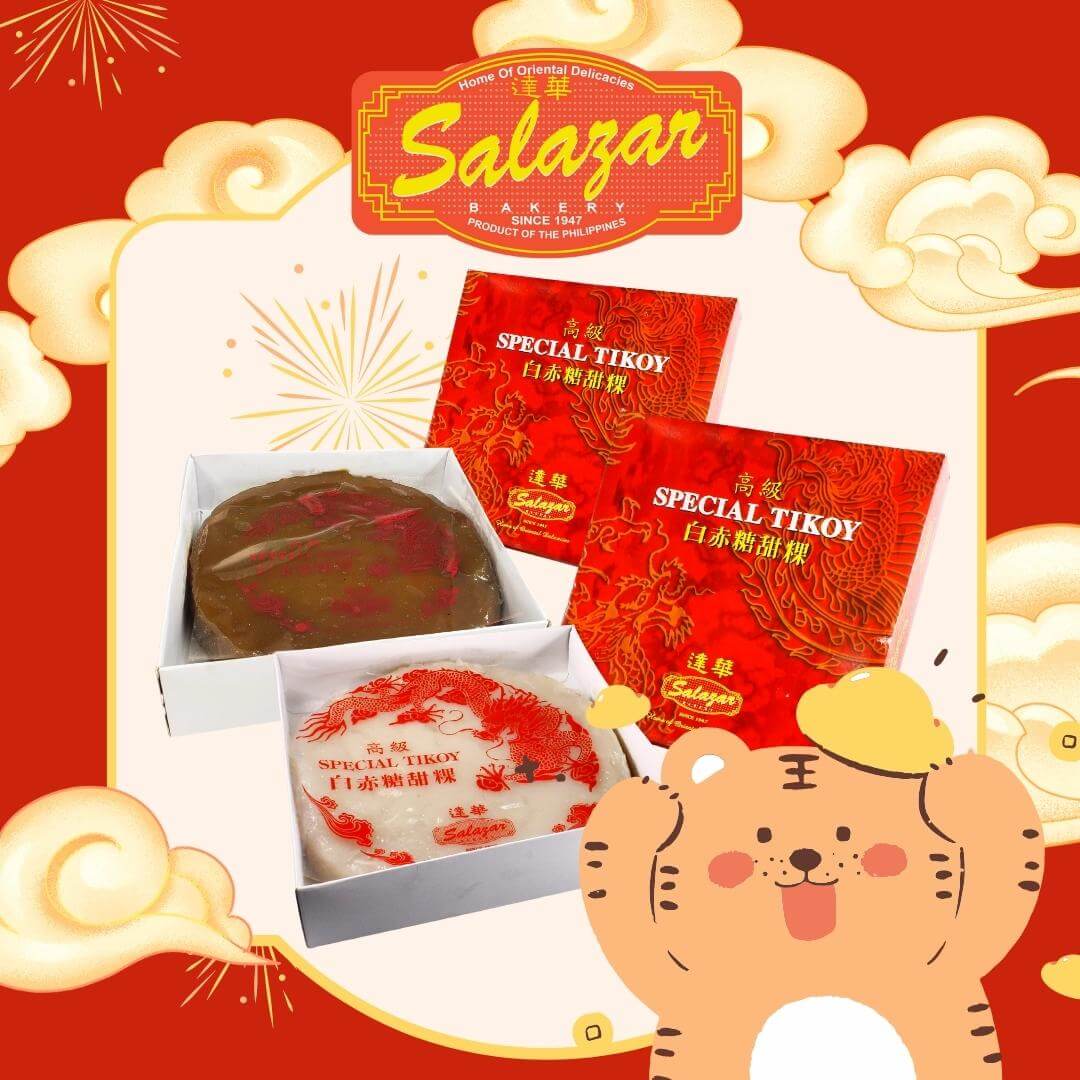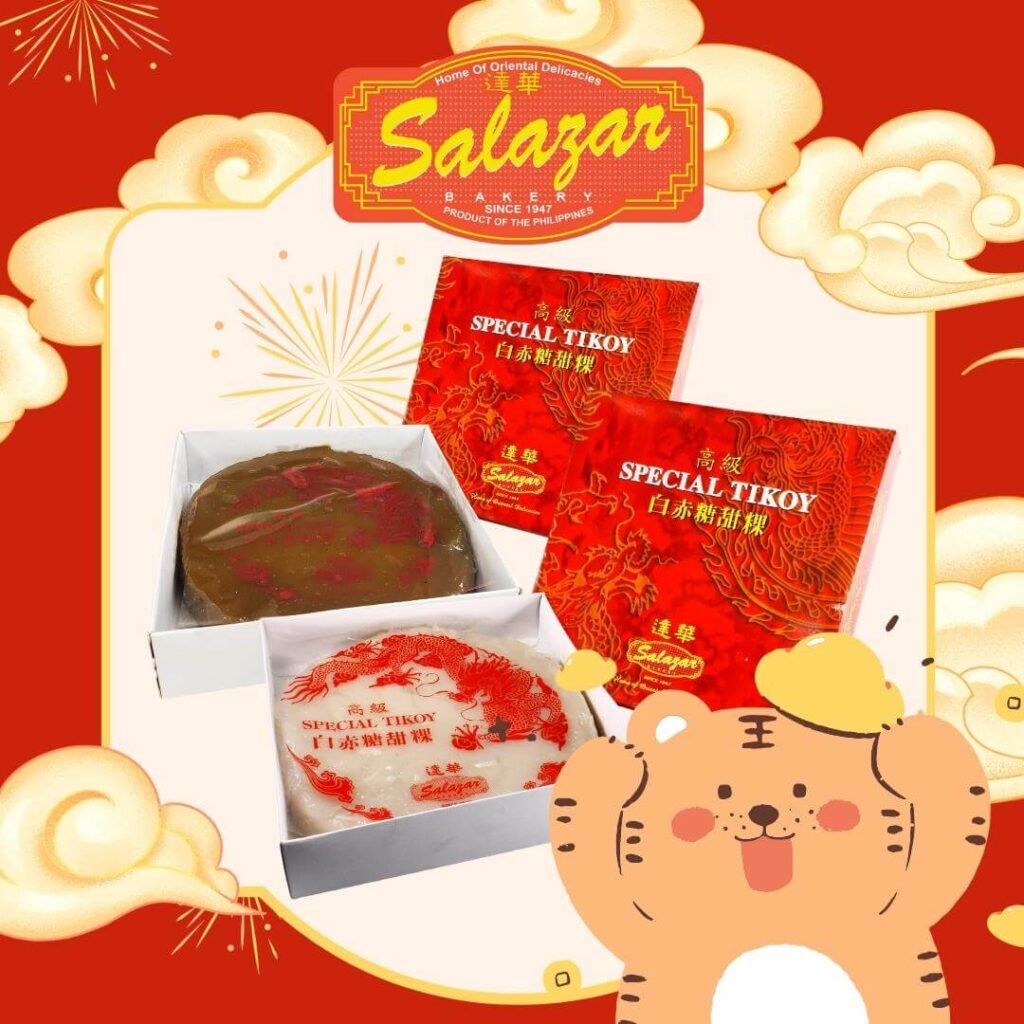 Tikoy is a type of sticky rice cake popular in Chinese communities around the world. It is typically made from glutinous rice flour, water, and sugar, and it can be either savory or sweet. Tikoy is often eaten during Lunar New Year, which is believed to bring good luck.
Salazar Bakery is a popular tikoy brand in the Philippines. Tikoys are delicious and make for a great snack or dessert.
If you're looking to try tikoy for the first time or looking for a delicious treat, be sure to check out Salazar Bakery's tikoy!
These are available around January and February, close to the Chinese new year.
How to order Salazar bakery online?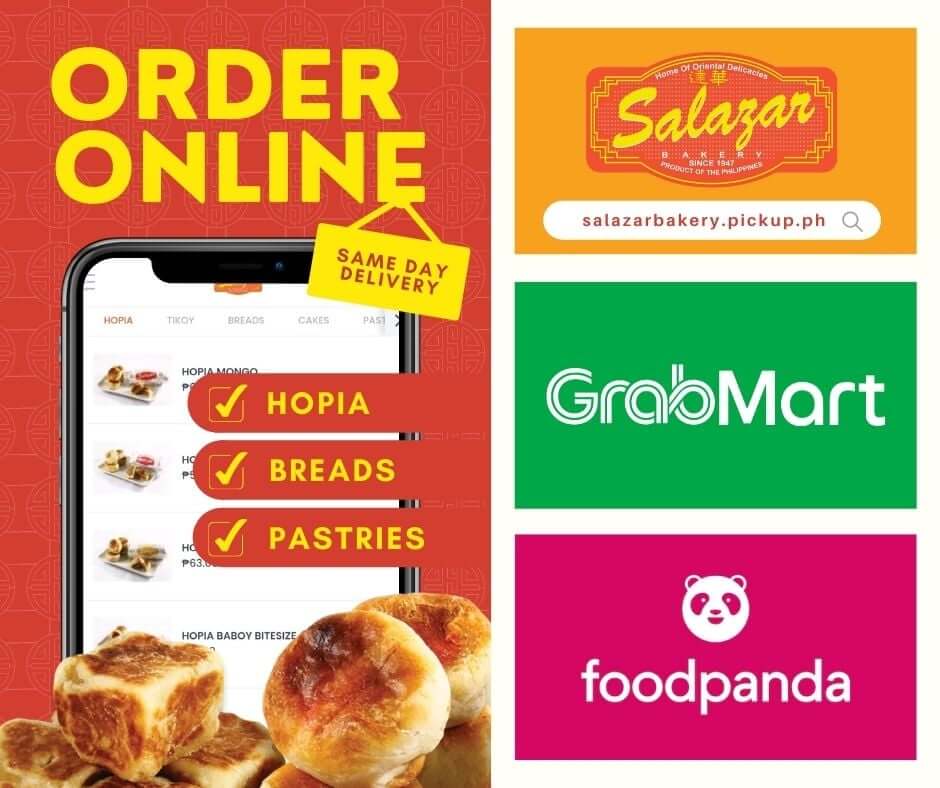 Salazar Bakery is available online for same-day deliveries and pick-up. Their website also shows which products are currently in stock.

Website – https://salazarbakery.pickup.ph
DELIVERY – You can place your order directly online and settle your payment through their payment channels. They will book delivery riders on your behalf, and the customer will pay the delivery fee via COD.
SELF-PICKUP – The Self Pick-up option is available for those who want to pick up or book their own delivery courier.
If an item is unavailable or sold out, their store attendant will be in touch with you for a refund or order cancellation.
FOOD DELIVERIES – For convenience, they are also available in Grab Food and Food Panda(Shops Tab).
Shelf Life of Salazar Bakery Bread and Pastries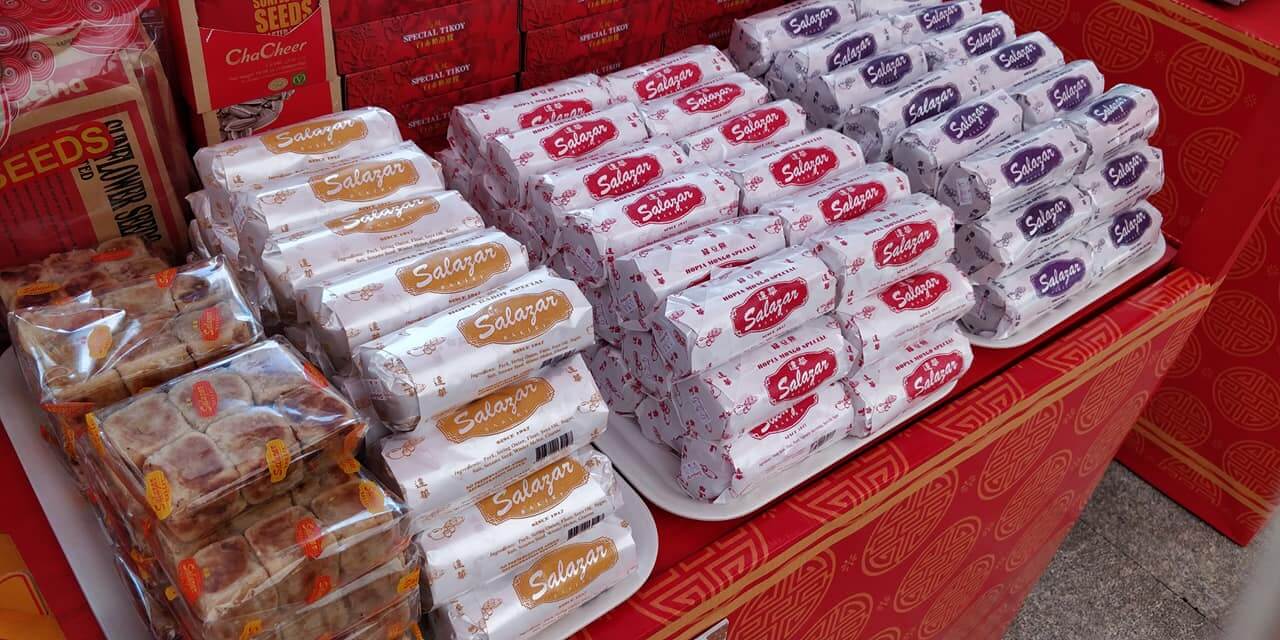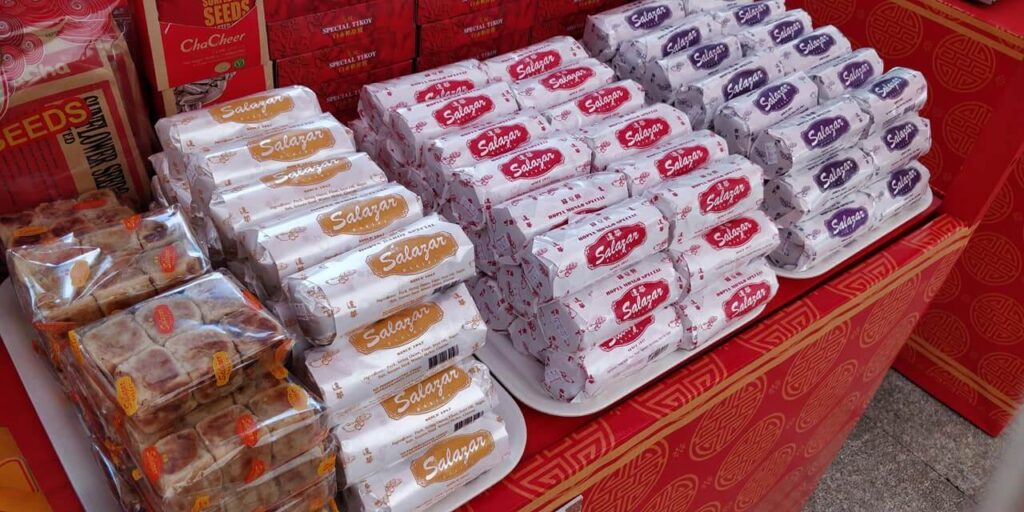 Salazar Bakery products are made traditionally without preservatives, so the shelf life is relatively short.
The Salazar bakery is known for its delicious bread and pastries. However, their bread and pastries will expire after a certain amount of time.
But don't worry, we've got some tips to help you make sure your Salazar goodies last as long as possible!
First of all, keep your bread and pastries in a cool, dry place. Their baked goods are best when stored at room temperature or below.
So, if you're not planning on eating them right away, you can always put them in the refrigerator to extend their shelf life.
Secondly, pay attention to the expiration date on each item. They carefully label the products so that you know exactly when they'll start to go bad. If you see that an item is expired, it's best to throw it away rather than risk food poisoning.
Finally, if you have any questions about how long a particular product will last, please ask one of their employees. They are always happy to help!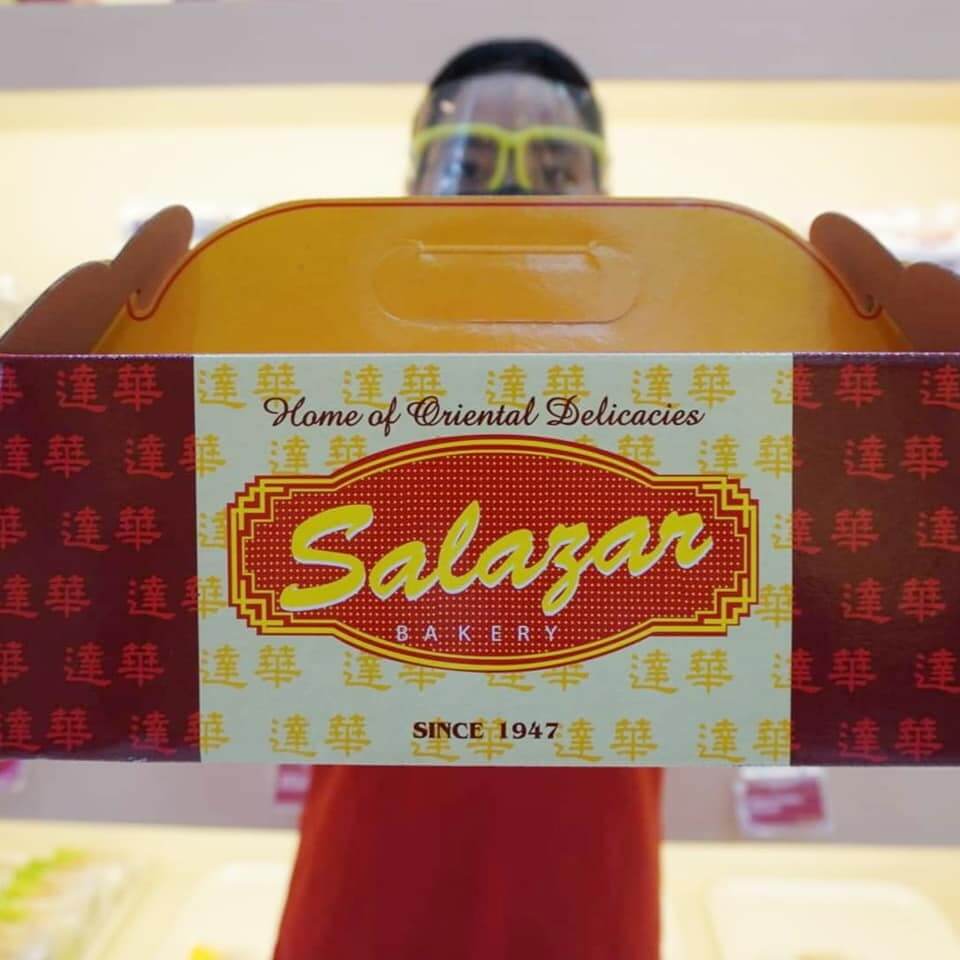 Salazar Bakery is a well-known bakery in the area. If you're craving their bread and pastries, order now because their stocks don't usually last long. You can either visit their store or order online. We hope that this guide has been helpful for you.
To know more about their upcoming promos and menu, visit their Facebook Page and Instagram Page.
Let us know in the comment section which Salazar Bakery Product is your favorite!