Where to Eat in Zamboanga: 7 Must Eat in Zamboanga Food Trip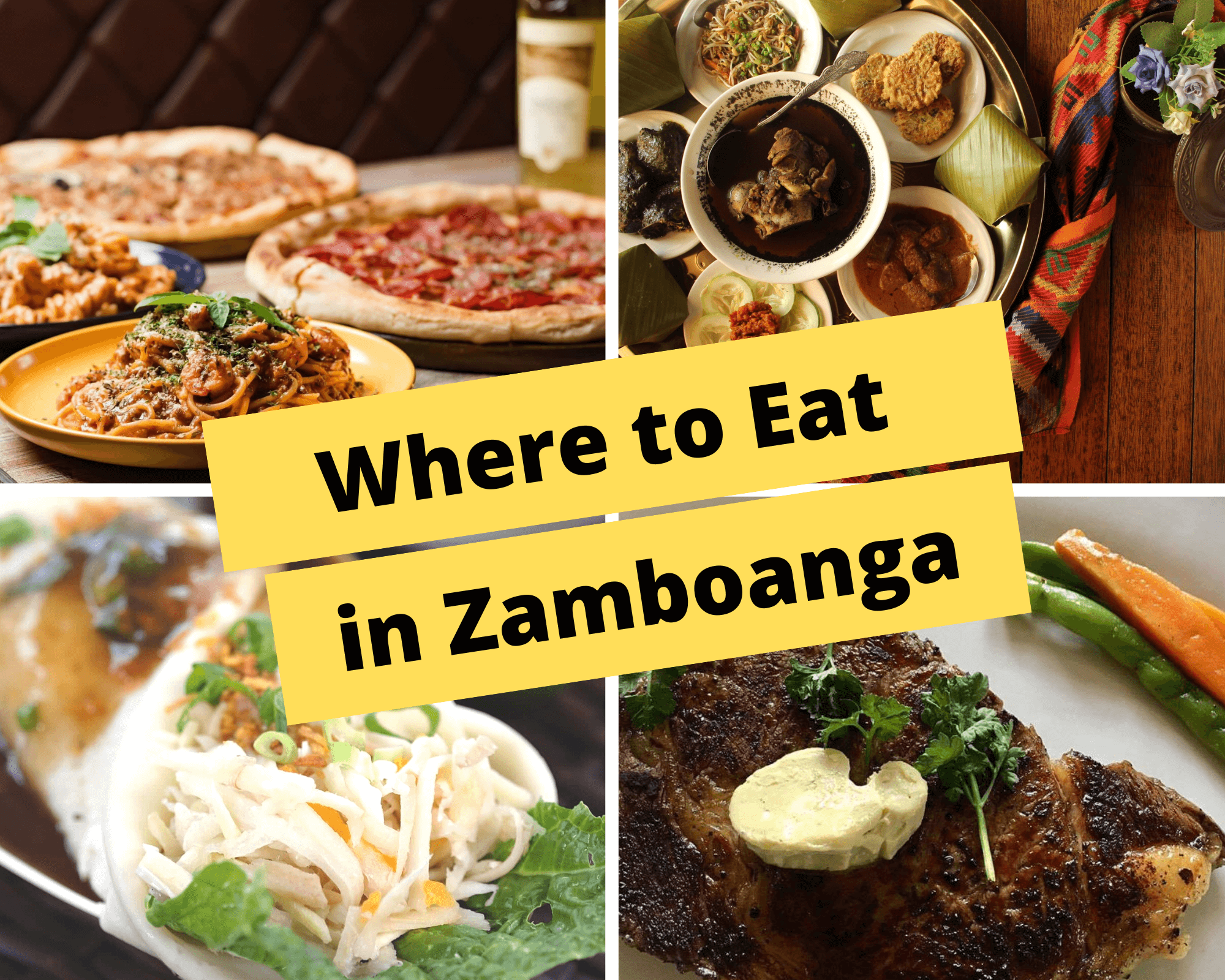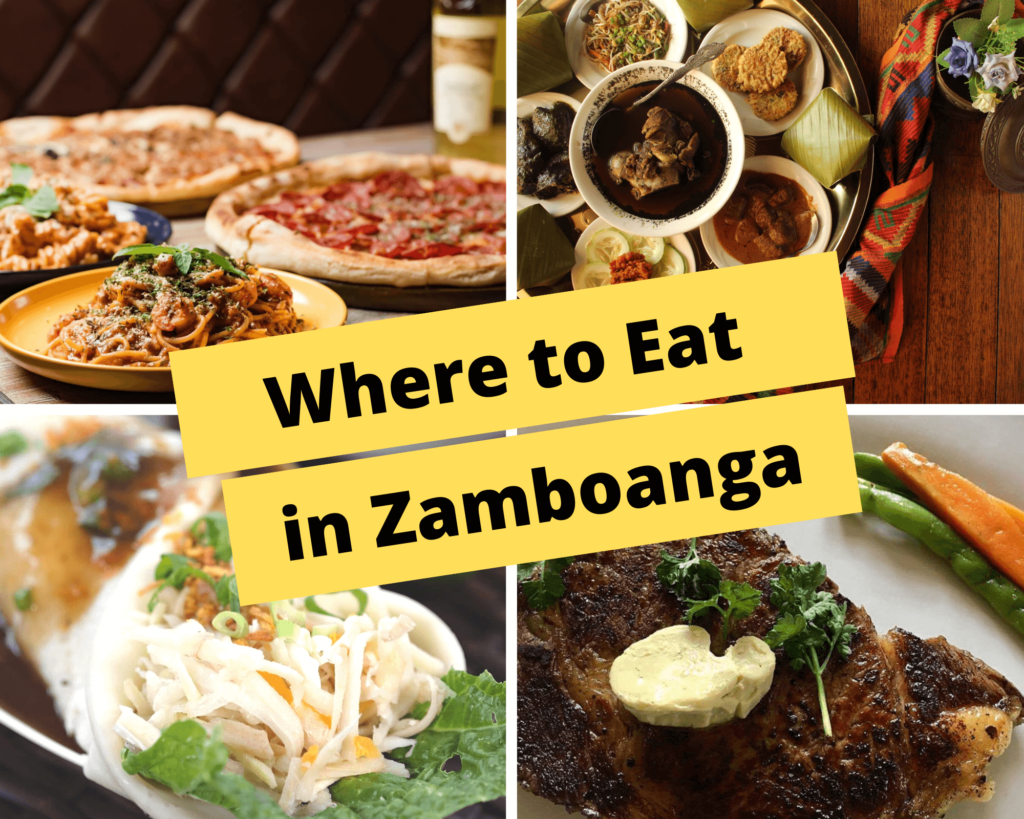 Everyone should make a point to visit Zamboanga City, an enchanting destination with a unique blend of Asian and Hispanic cultures and cuisines.
With restaurants ranging from classic street food spots to fine dining experiences, there is something for everyone in this wonderful city.
The city has all sorts of restaurants that offer a variety of local dishes and Latin-inspired fare. Highly recommended are also the region's various seafood delicacies.
With its unique mix of cultures, no food adventure here in Zamboanga City is ever complete without exploring its great range of specialties.
Here is the list of restaurants you must visit in Zamboanga City:
Casa Velyn
Food connoisseurs who visit Zamboanga City in search of the city's best restaurants will want to see Casa Velyn.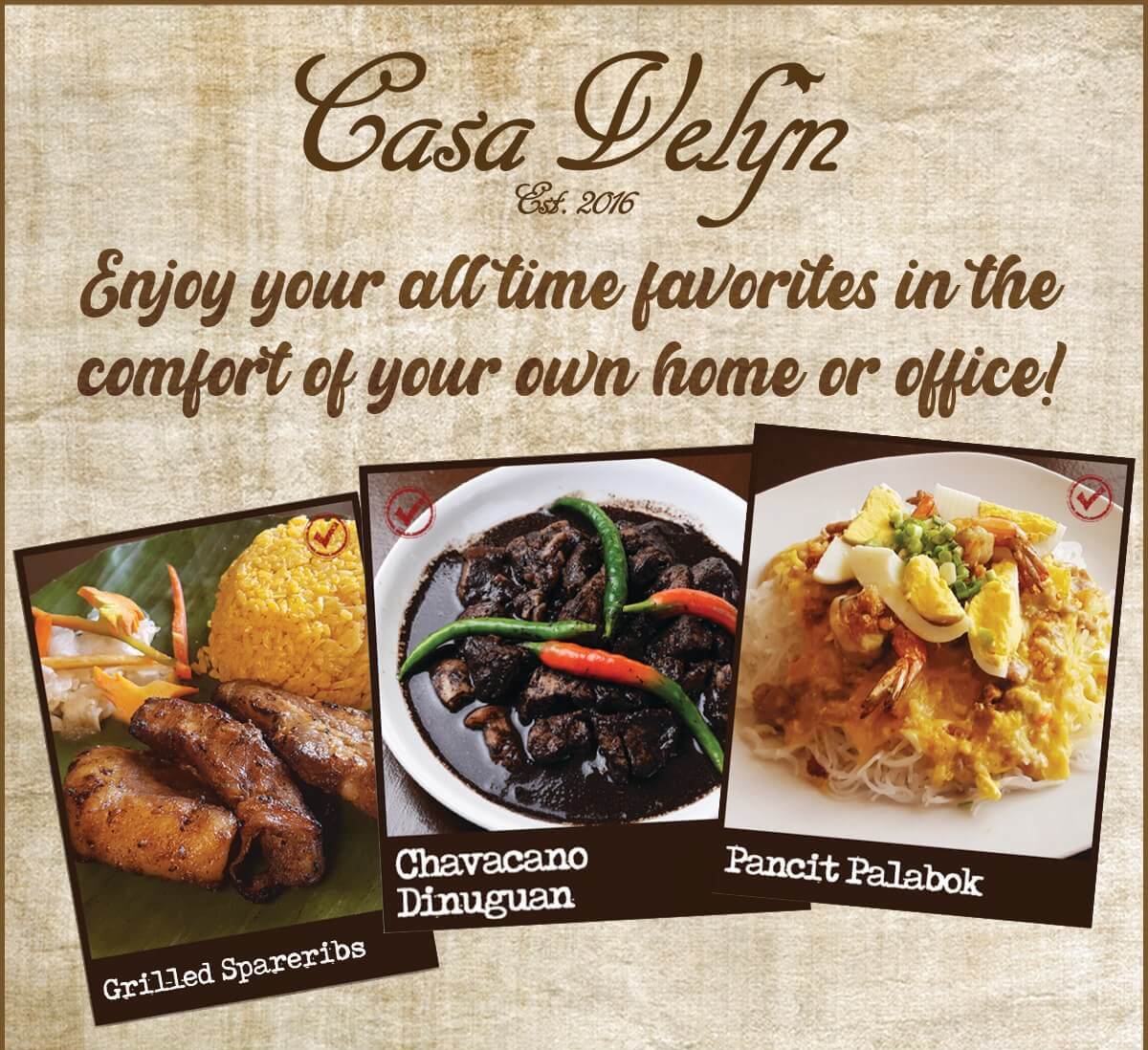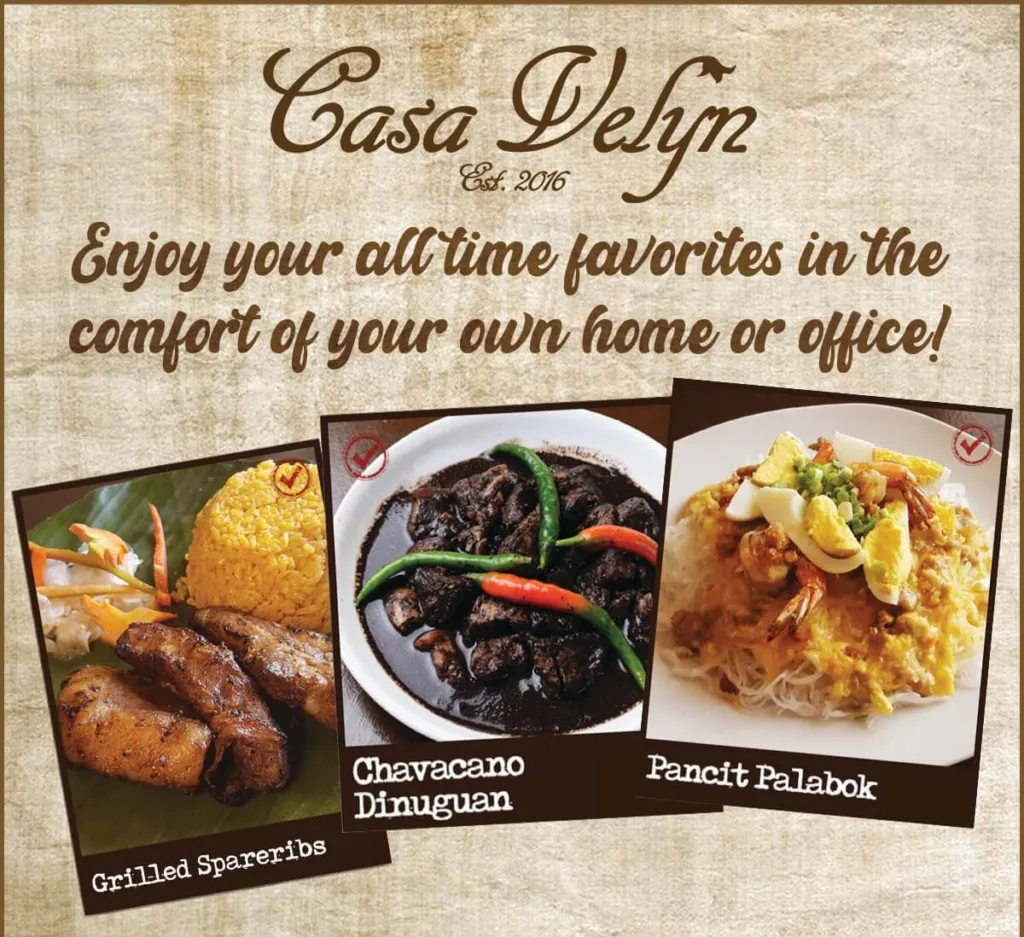 Restaurants like Casa Velyna have preserved their ancestral approach to Filipino and Spanish-inspired cuisine.
Here, guests can expect generous servings of mostly Filipino staples served in large sharing platters – all presented with a hint of that classic Spanish flair.
Foodies and adventurers are sure to be treated to comforting dishes made from scratch and served by the friendliest staff!
Its menu boasts several traditional dishes plus an ambient atmosphere that's truly unique.
Their bestsellers include Chavacano Dinuguan, Butter Garlic Chicken, Bistek Tagalog, Paella Mixta, and Sopas de Marisco.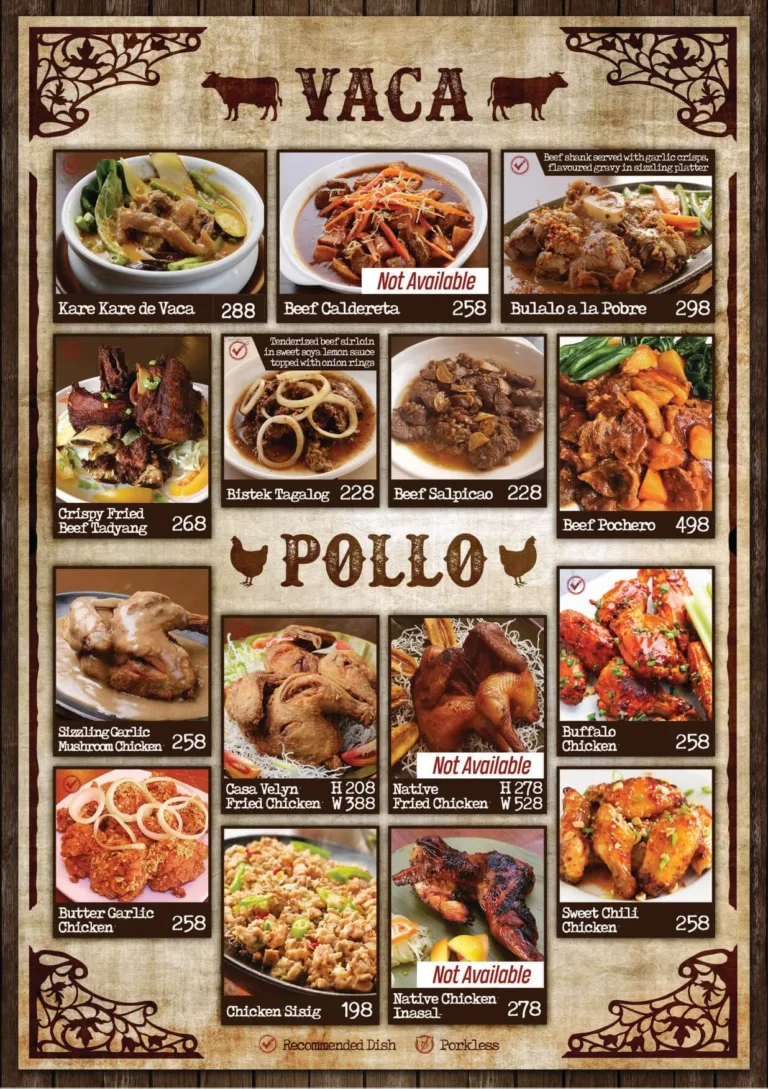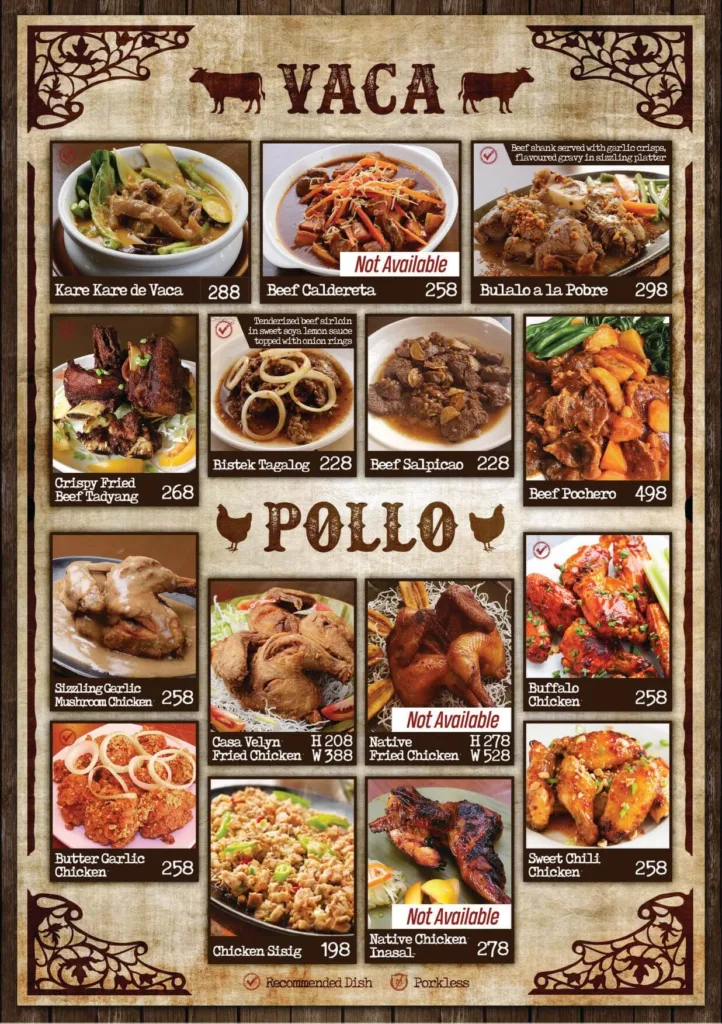 Are there any veggie lovers out there? Worry not, as they cater to vegetarians with several Gulay options.
Moreover, many of their dishes are great for sharing between 3-4 people, perfect for those who love bonding over good food.
The best times to visit would be during lunch and dinner service, 12nn and 6 pm, respectively.
Feel free to bring your pup or cat along since their Sta. Maria branch allows pets.
Parking is also abundant as their parking space can accommodate up to 8-10 cars.
Lastly, remember to include room for dessert when dining here, as they create yummy yet affordable Filipino desserts.
If you're in the area and looking for an authentic taste experience full of nostalgia, Casa Velyn is the perfect spot to stop.
Casa Velyn
Sta Maria branch hours: 10:30 AM to 2:00 PM, 4:00 PM to 9:00 PM
Address: Sta Maria Rd., Zamboanga City
Contact Number: +63 975 688 2528
Email: [email protected]
Facebook: https://www.facebook.com/casavelyn/
Instagram: https://www.instagram.com/casavelyn.zc/
Google Maps: https://goo.gl/maps/rWveeMTWZqXQCHJw
Dennis Coffee Garden
Food lovers in and around Zamboanga City know the place to go for an authentic food trip experience— Dennis Coffee Garden!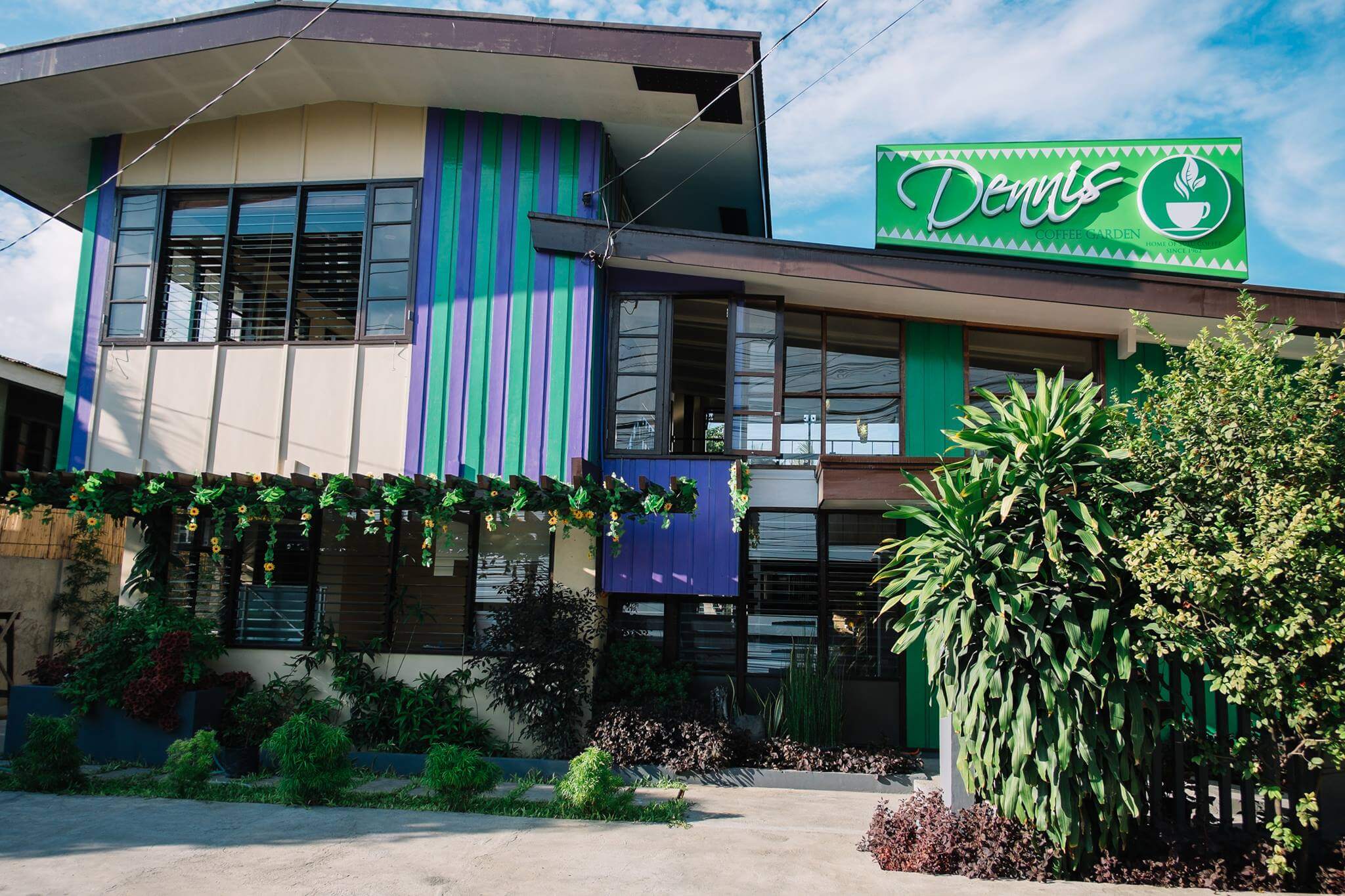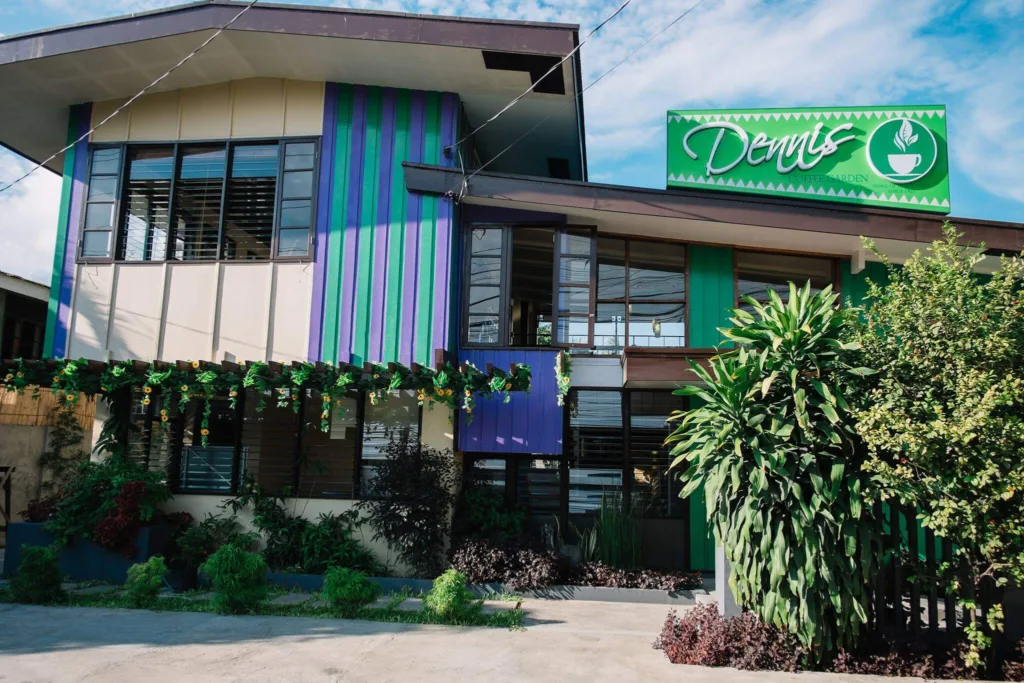 Serving truly flavorful and enticing traditional Tausug delicacies, Dennis Coffee Garden has been home to the famous Kahawa Sug coffee since 1962.
Since then, the business has grown to five branches across the city, boasting their cozy dining area surrounded by garden plants.
It doesn't just serve native delicacies; there are also subtle innovations done to some traditional Tausug dishes.
Their best sellers include Kahawa Sug (Native Coffee), Jualan Saing (Fried Banana), Beef Kulma, Tiulah Itum, and Dulang.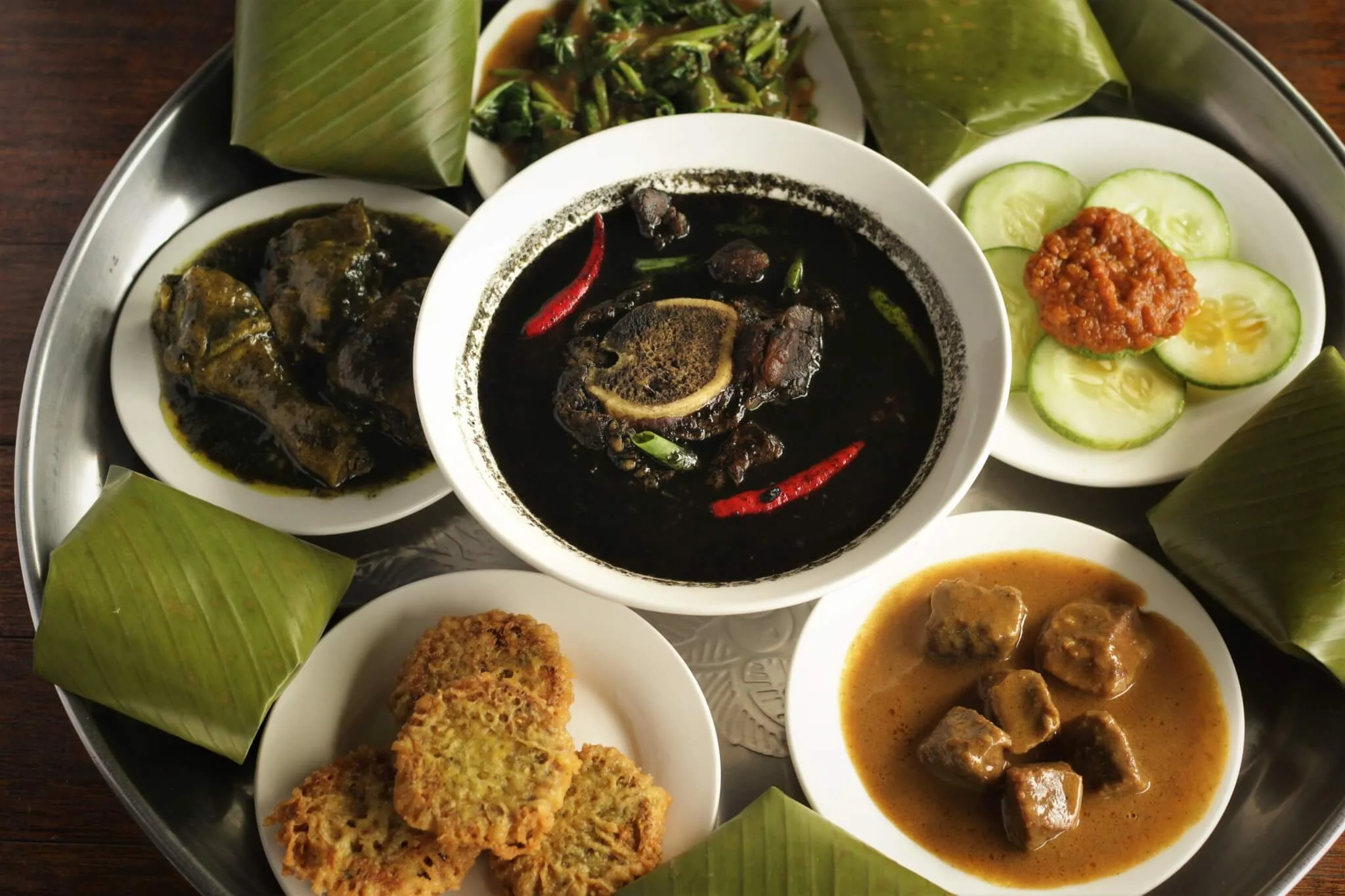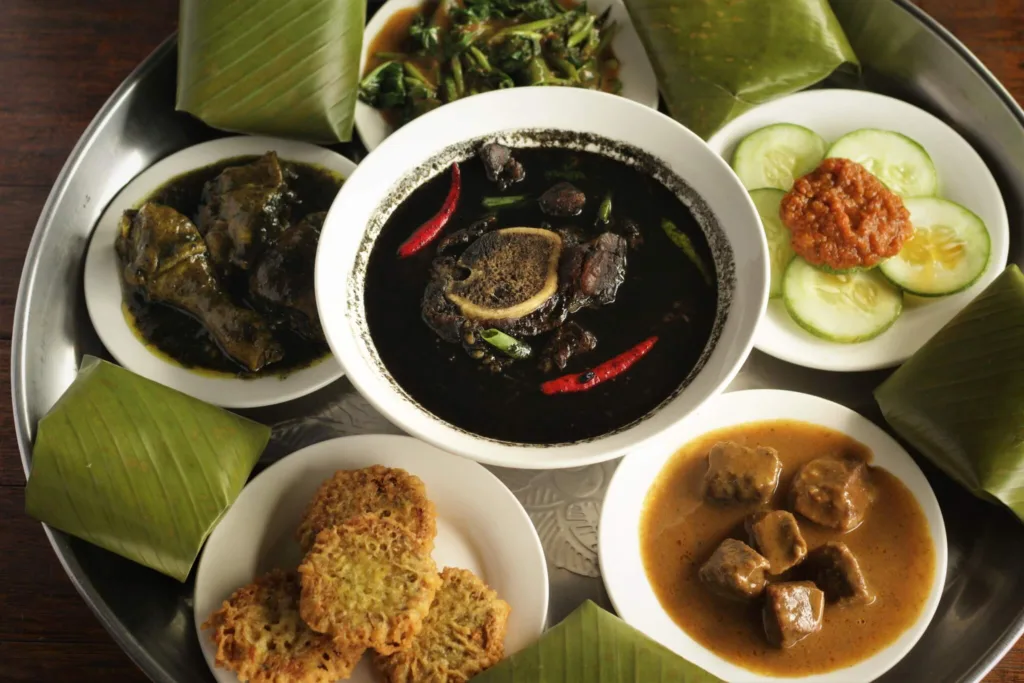 For those looking for vegan and/or vegetarian options, this cafe has you covered – their list of pastries is all excellent veggie-friendly choices.
Customers will be treated to an inspiring story behind the establishment once they visit – so make sure to read up on their menu!
Customers need not worry about other details, as the cafe is open daily from 9:30 AM to 10:00 PM. There's also an average-sized parking space, usually along the road – pets sadly aren't allowed inside.
Dennis Coffee Garden
Store Hours: Open Daily 9:30 AM to 10:00 PM
Address: Baliwasan Branch, San Jose Road, Baliwasan, Zamboanga City
Contact Number: +63 966 713 3705
Website: https://www.denniscoffeegarden.com/
Facebook: https://www.facebook.com/denniscoffeegarden
Instagram: https://www.instagram.com/denniscoffeegarden/
Google Maps: https://goo.gl/maps/kFHYrnTAW2dLsgiB9
Country Chicken
Foodies and adventurers should go on a Food Trip in Zamboanga City and include Country Chicken Restaurant in their sightseeing map.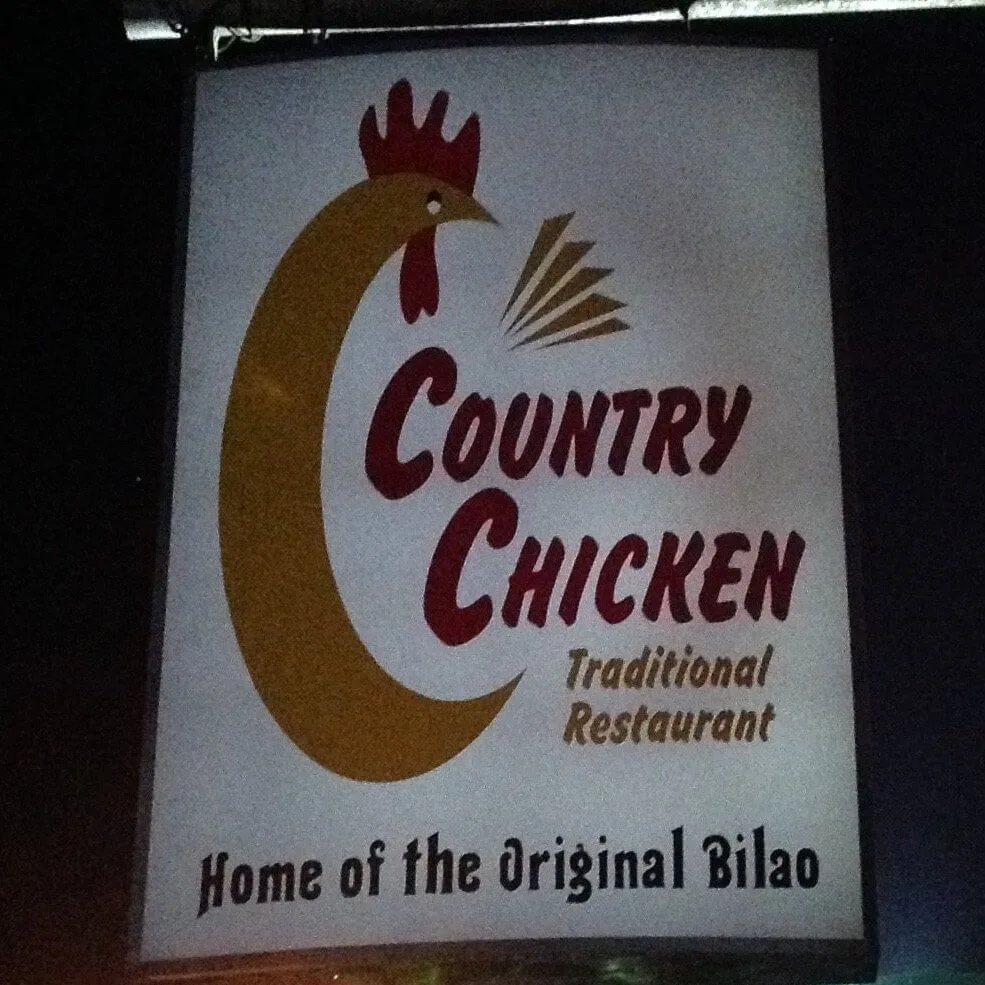 One must-try restaurant is certainly Country Chicken, an iconic resto that has been giving Filipino and Spanish dishes since the 70's.
Foodies will love the goodies they offer, such as seafood paella, callos with bread, duck stew, and vegetable salad with vinaigrette.
The interiors also have a cozy, rustic feel adding to the delightful dining experience.
They offer a few vegan and vegetarian options, with the Amorgoso Salad being their only meat-free entree.
Their best-selling dishes are Bilao – 5 sizes, Spare ribs, Imported angus steak, Fried chicken, and Crispy pata.


Open daily from 11 am to 9 pm, they also offer a pet-friendly environment, so you don't have to leave your furry friends behind.
There is no better choice for a food trip in Zamboanga City than at their restaurant.
Country Chicken
Store Hours: Open Daily 11:00 AM to 9:00 PM
Address: KM 4 Pasonanca Road, Pasonanca, Zamboanga City, Philippines
Contact Number: (062) 993 3862
Facebook: https://www.facebook.com/profile.php?id=100057153803532
Google Maps: https://goo.gl/maps/FQHf4mjJsmjHMPPW9
Bay Tal Mal – Moro Cuisine
Foodies and travelers looking for a unique food experience in Zamboanga City should check out Bay Tal Mal restaurant.
Not only is their halal Moro cuisine authentically delicious, but it's also rich with strong aromatics and exotic spices—characteristic of local Philippine fares.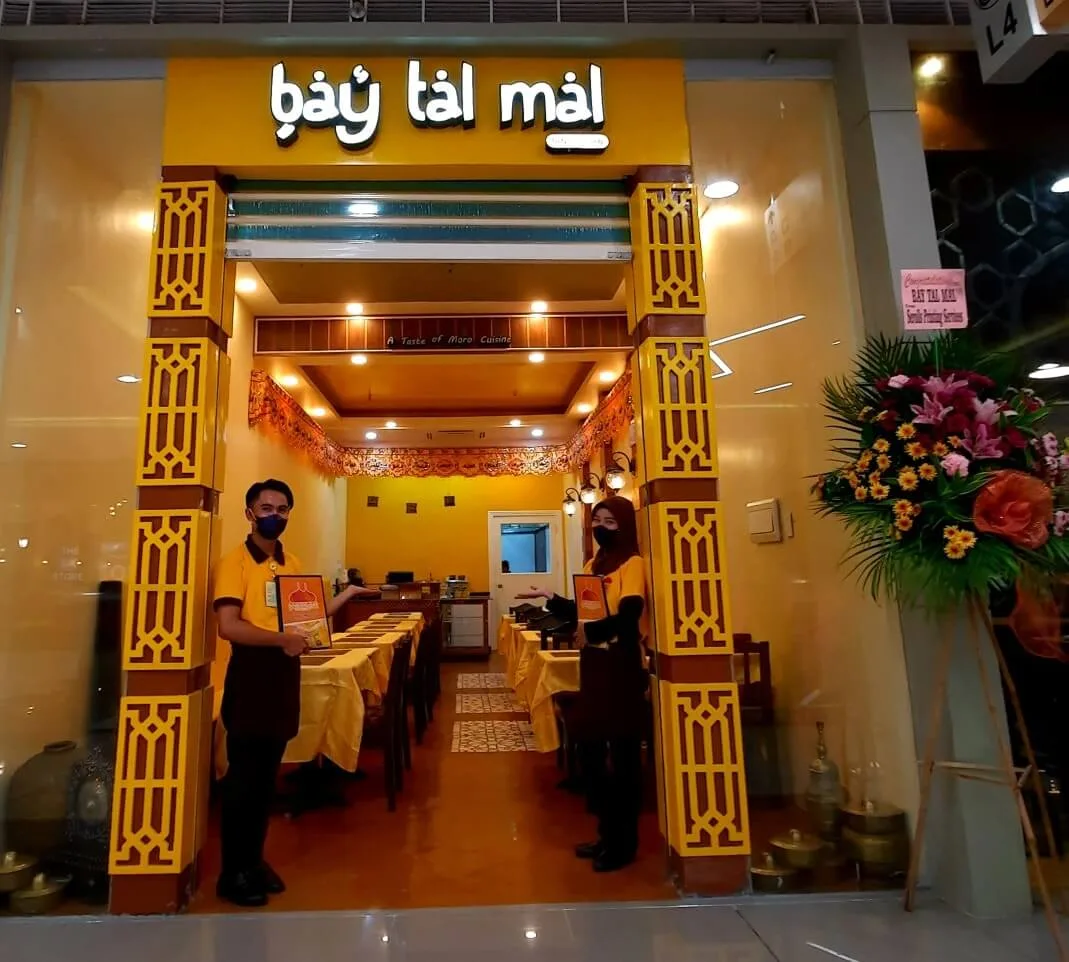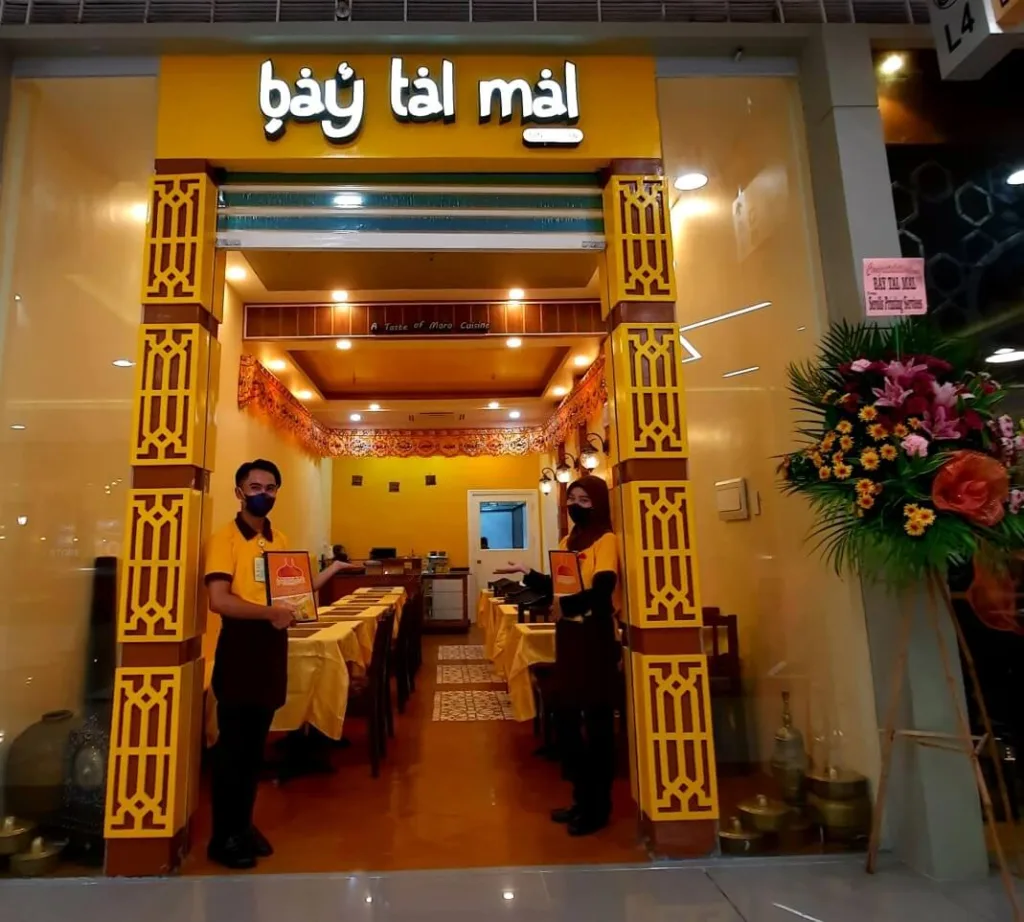 And the best part is that tourists can take a delicious Food Trip through their famous latal platter, which features a variety of Tausug specialty dishes.
However, food isn't the only thing they offer, as this restaurant is also aesthetically pleasing. With its archways trimmed into elaborate layouts that give the place a Moroccan touch, you have an atmosphere that perfectly fuses native designs with modernity.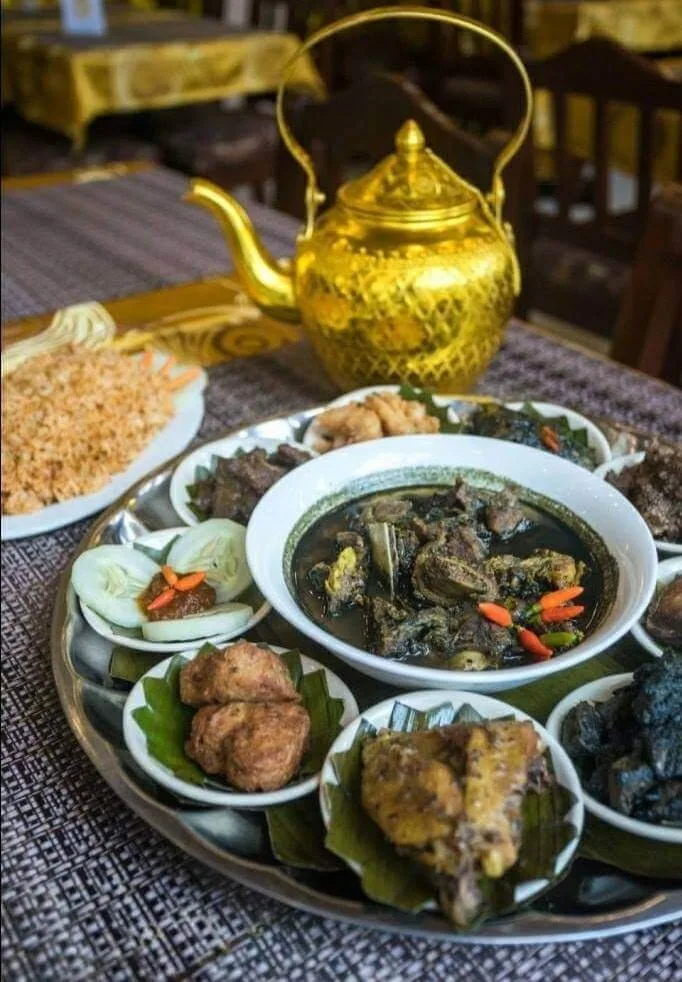 Their bestsellers are Latal, Beef Kulma, Chicken Piyanggang, Buko Halo Halo, and Mee Goreng.
They not only offer a variety of mouthwatering dishes but also provide vegetarian options like chopsuey, wherein customers can request the chicken taken out.
Customers may also bring their pets inside, as long as they are cats, and should be kept inside a cage. However, dogs are not allowed.
Parking should not be an issue as it is located inside a mall.
Food trippers may visit them from 10:00 am until 8:00 pm from Mondays to Thursdays and from 10 am up until 9 pm from Fridays to Sundays – perfectly coinciding with mall hours!
Remember that since their food belongs to deep-rooted culinary traditions, it may be more spicy, so better arm yourselves for some heat!
Bay Tal Mal – Moro Cuisine
Mall Hours:
10:00 AM to 8:00 PM (Monday to Thursday)
10:00 AM to 9:00 PM (Friday to Sunday)
Address: SM MINDPRO LEVEL 4 BESIDE CINEMA, Zamboanga, 7000 Zamboanga del Sur
Contact Number: +63 917 878 0150
Email: [email protected]
Facebook: https://www.facebook.com/baytalmalzamboanga
Google Maps: https://goo.gl/maps/gT8MHPt27kG5y1uT9
Taza Coffee Company
Foodies and coffee connoisseurs in Zamboanga City have something to celebrate – the first specialty café and coffee roaster has opened its doors in the city's heart!
Taza Coffee Bar opened last June 23 after lifting Enhanced Community Quarantine and is proud to launch its roastery.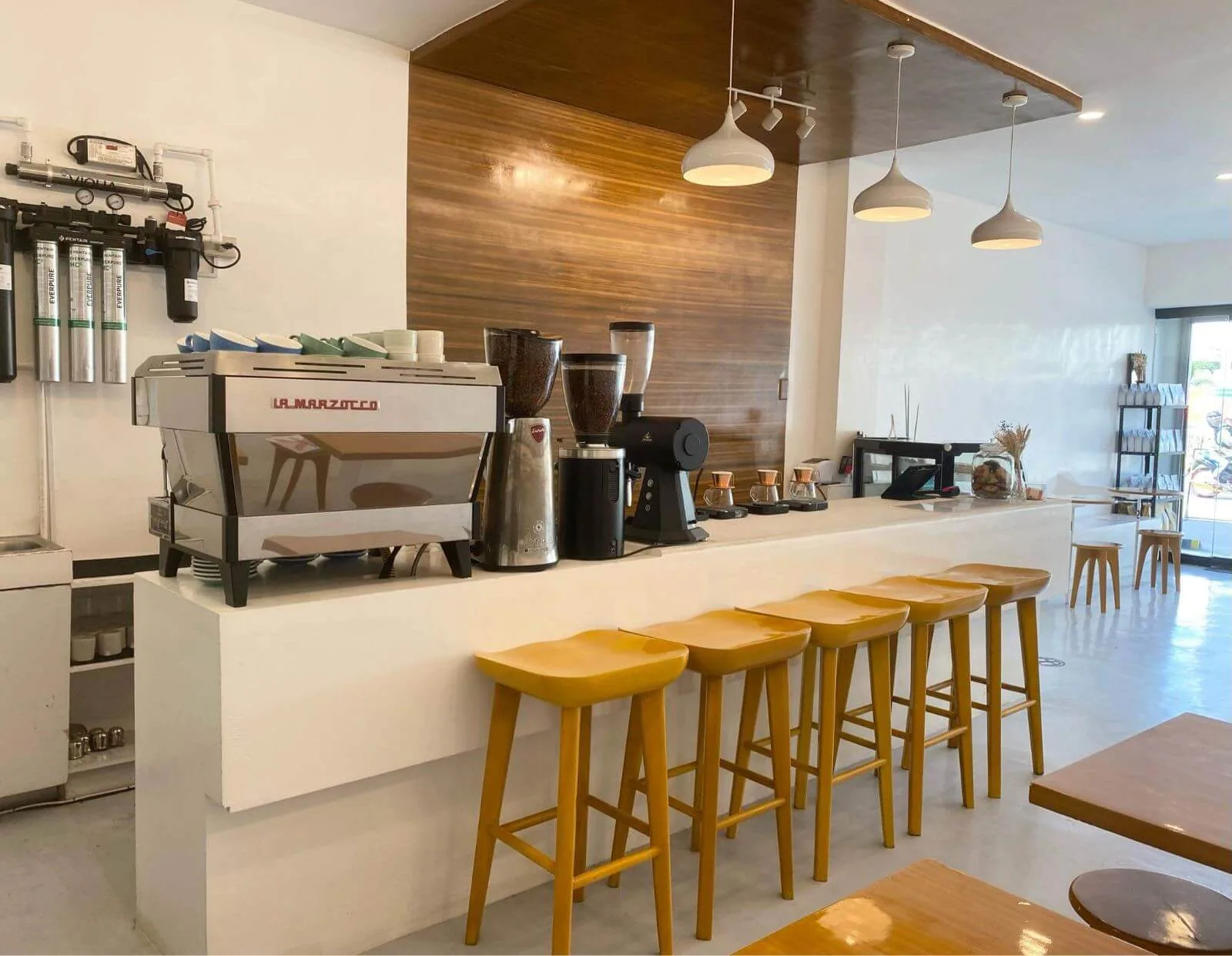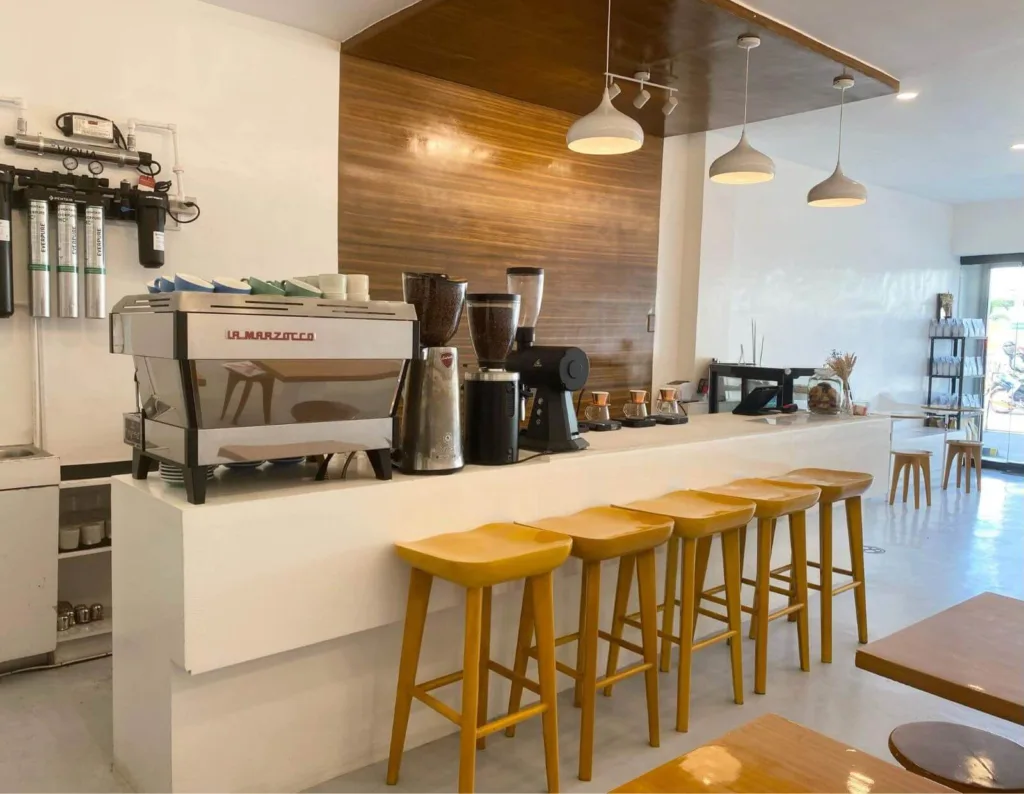 Food-trippers are sure to take delight in the café's cozy interiors – with a white minimalist design that allows their signature coffee creations to stand out starkly upon serving.
Food Trip fanatics from around Zamboanga City and nearby areas can enjoy exploring our diverse menu choices. At the same time, they indulge in the best coffee experience only offered by Taza Coffee Company!
Their best-sellers are Flat White, Spanish Latte, Filter/Pour over coffee, Pasta, and Lumpia.
Here you can get your vegan and vegetarian food fix with their vegetable lumpia, all made from the freshest ingredients!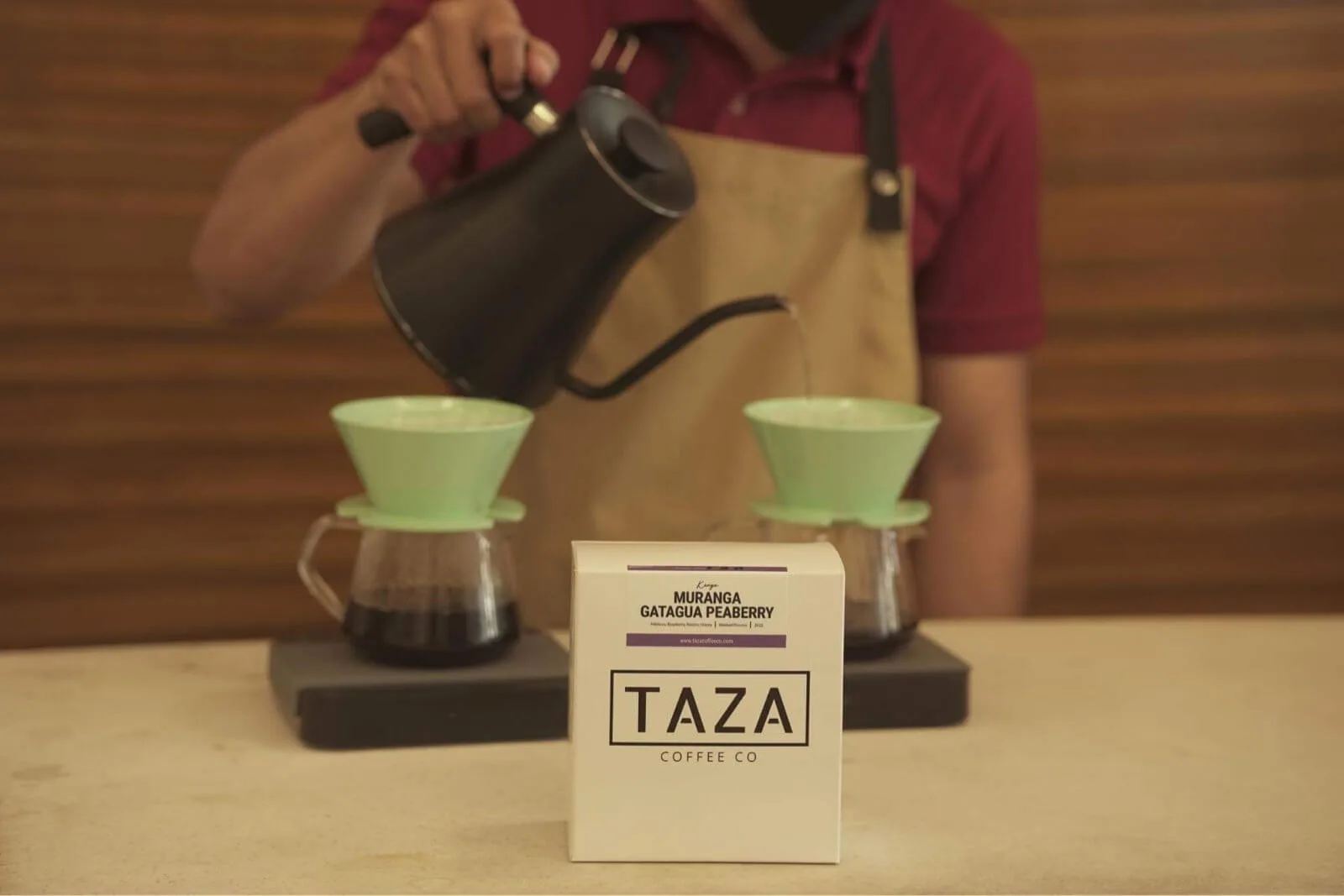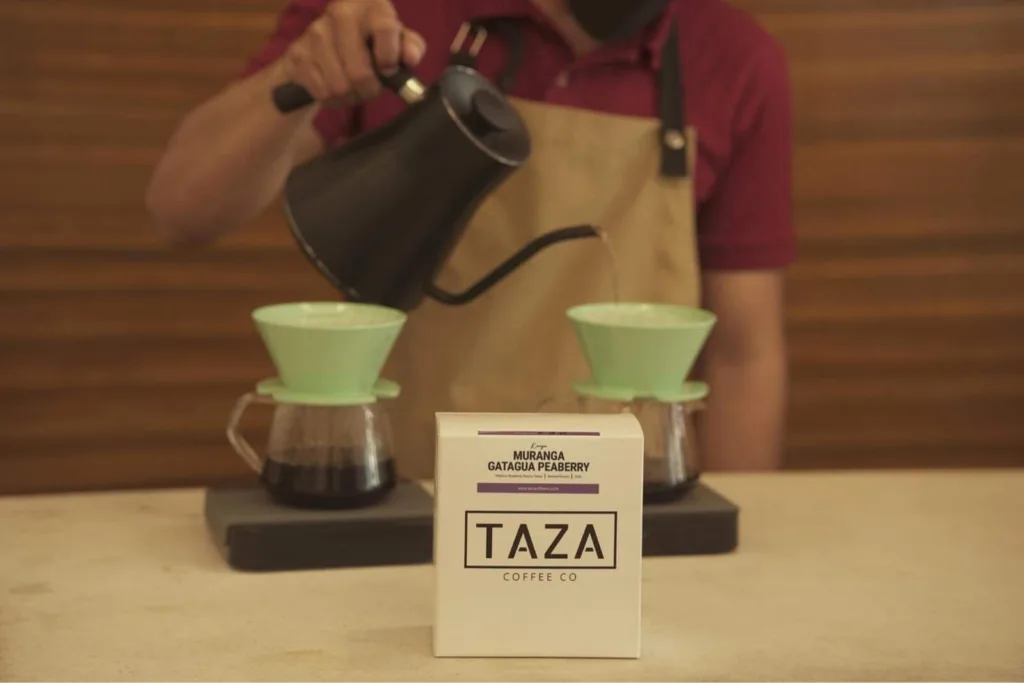 They also have alternative milk/oat milk available for dairy-free drinks.
And they're open from 6 am to 11 pm.
They have parking in front of the building and at the back, specifically for Taza Coffee Company Customers.
Even better, they offer a 10% discount on drinks to customers who just arrived at the airport – simply present your ticket or boarding pass to avail.
Taza Coffee Company
Store Hours: Open Daily from 6:00 AM to 11:00 PM
Address: 1016 Mayor Jaldon Street, Zamboanga, 7000 Zamboanga del Sur
Contact Number: +63 953 295 0006
Website: https://www.tazacoffeeco.com/pages/shop
Facebook: https://www.facebook.com/TazaCoffeeCompany
Instagram:https://www.instagram.com/tazacoffeecompany
Google Maps: https://goo.gl/maps/nN9XsuBqGTrxtGo27
Kape Zambo
Food Trip to Zamboanga City just got better with Kape Zambo.
It's a unique restaurant serving only the freshest brewed coffee and vegetable salads.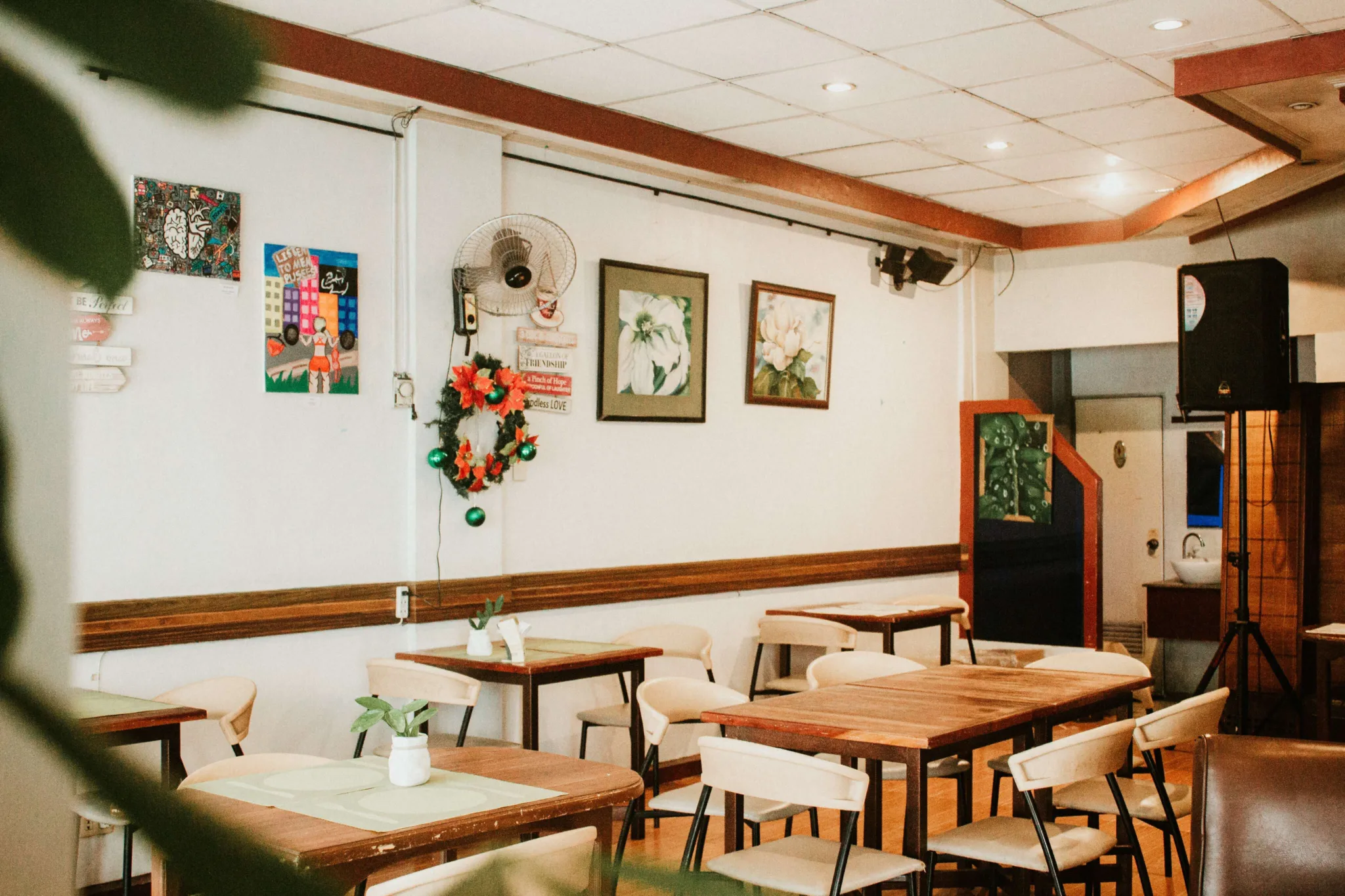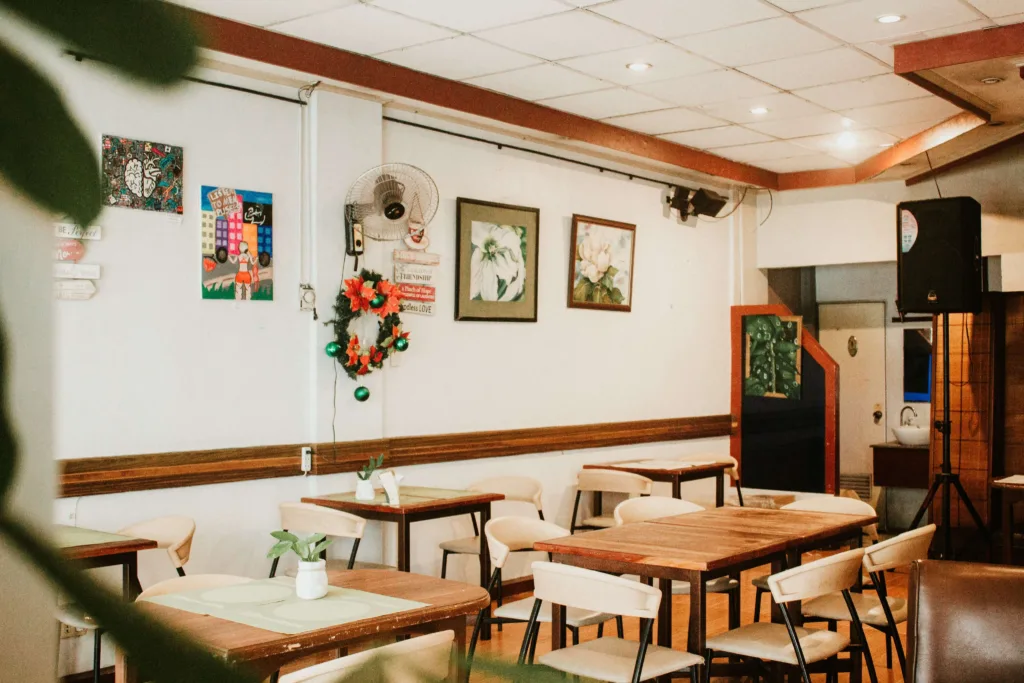 Besides their signature beverage, they also serve Food Trip-style food choices such as Arroz Caldo, fresh lumpia, and durian coffee.
The dining space is spacious, while the ambiance is full of warmth.
A bonus is the live music performances which make it the perfect place to chill out after an adventurous Food Trip. Their staff is friendly and always willing to help.
They offer delicious authentic Filipino dishes like Arroz Caldo and lumpia that are guaranteed to tantalize your taste buds.
When in doubt, customers can't go wrong with their best sellers which include fresh lumpia for vegetarians, fried lumpia for those who enjoy savory treats, and Korean bbq or porkchop for meat lovers.


Kape Zambo have added attractions such as acoustic bands and karaoke nights on Thursdays, Fridays, and Saturdays so guests can enjoy a food trip with entertainment. 
Parking is available onsite for up to 3-4 cars, with additional parking provided offsite during the afternoon.
Kape Zambo
Store Hours:
Mon-Wed: 7:30 AM to 10:00 PM
Thu-Sat: 7:30 AM to 12:00 AM
Sunday: 7:30 AM to 7:00 PM
Address: Mayor Jaldon St, Canelar 7000 Zamboanga City, Philippines
Contact Number: +63 917 542 7442
Facebook: https://www.facebook.com/kapezambo
Instagram: https://www.instagram.com/kapezambo
Google Maps: https://goo.gl/maps/22fogDDBSJssb2cV6
Maurizio's Pizza
Foodies and travelers looking for a unique food trip experience in Zamboanga will be delighted to visit Maurizio's Pizza.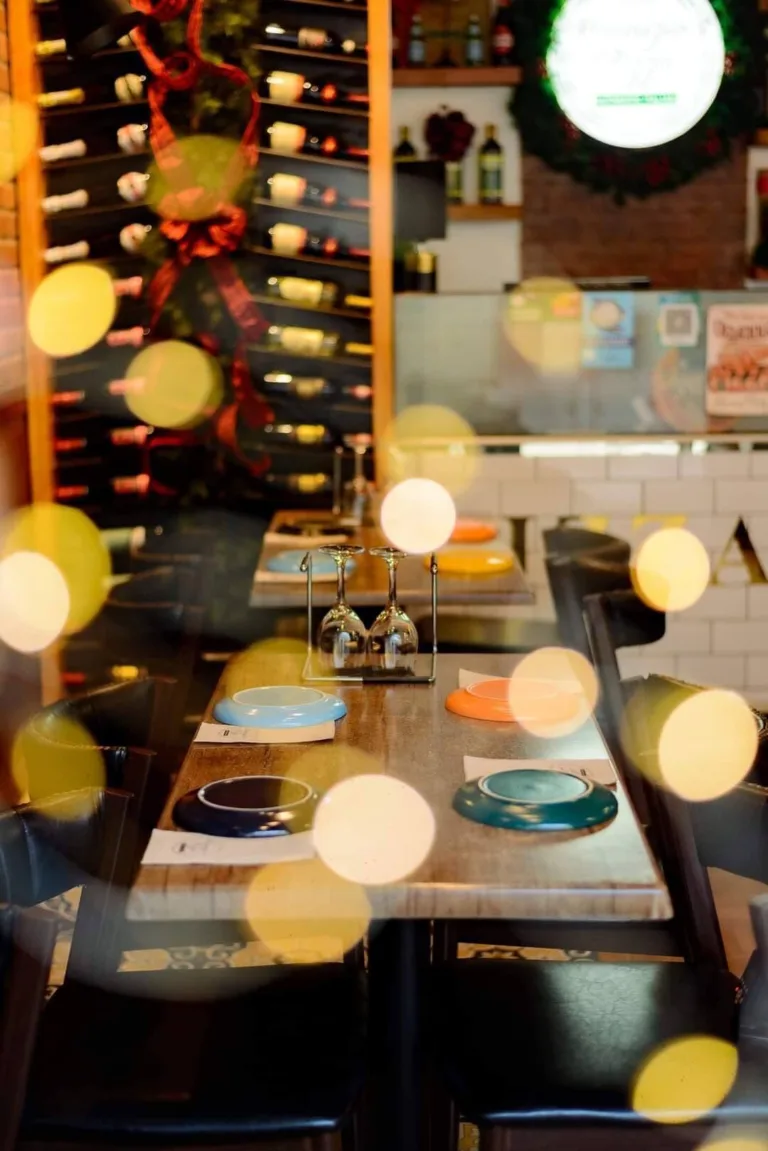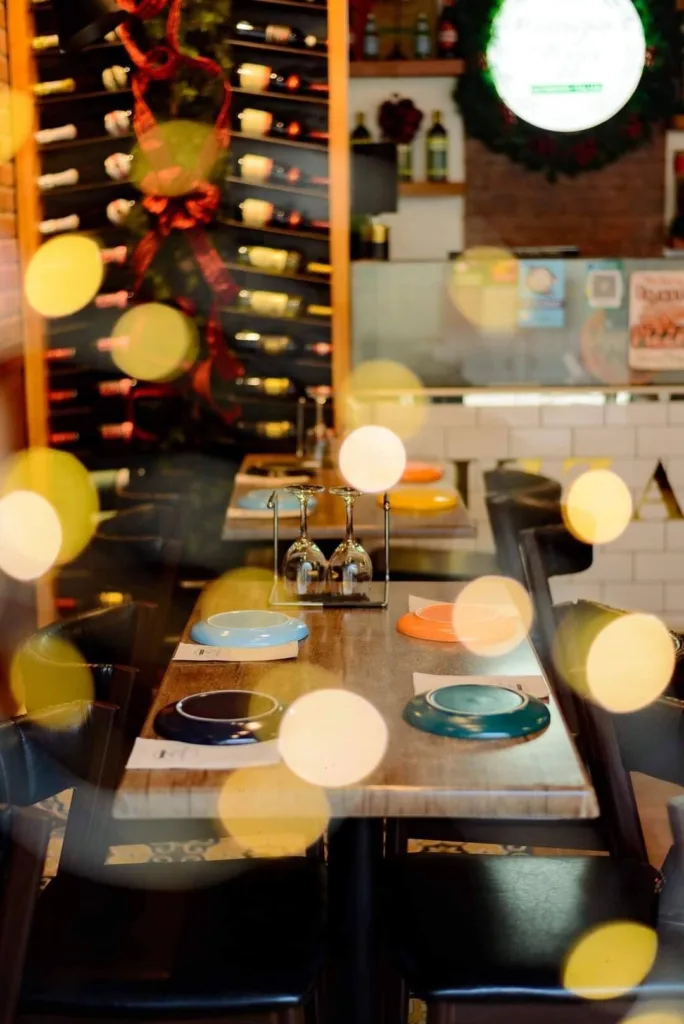 Not only would they indulge in authentic Italian pizza – made with fresh ingredients, light, crispy crust, flavorful tomato sauce, and gooey cheese…
But their taste buds can also enjoy the mouthwatering range of pasta, all cooked al dente to perfection.
The restaurant's stylish interior, brick walls, lamps, wooden tables, and even a wine bar add charm to the place.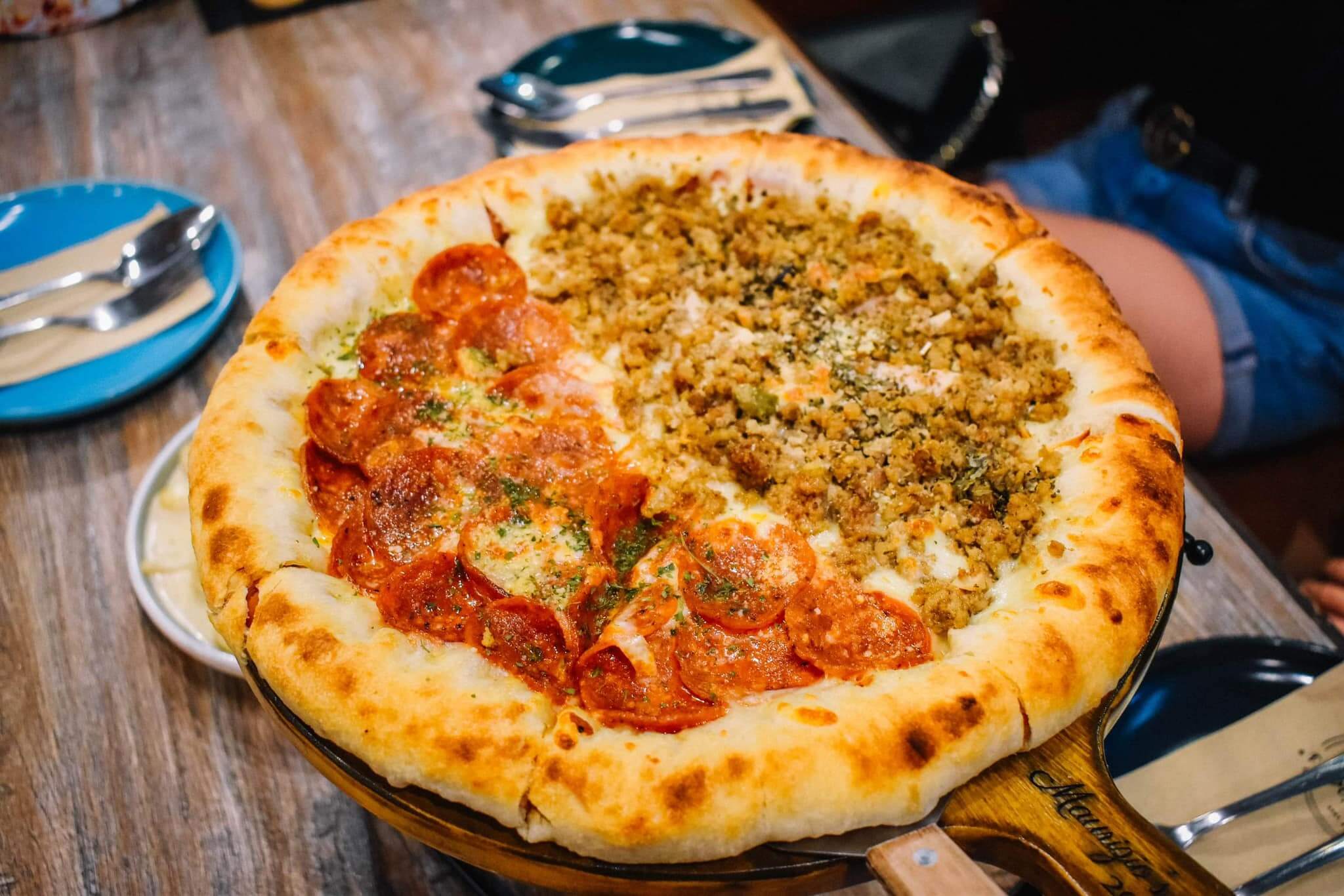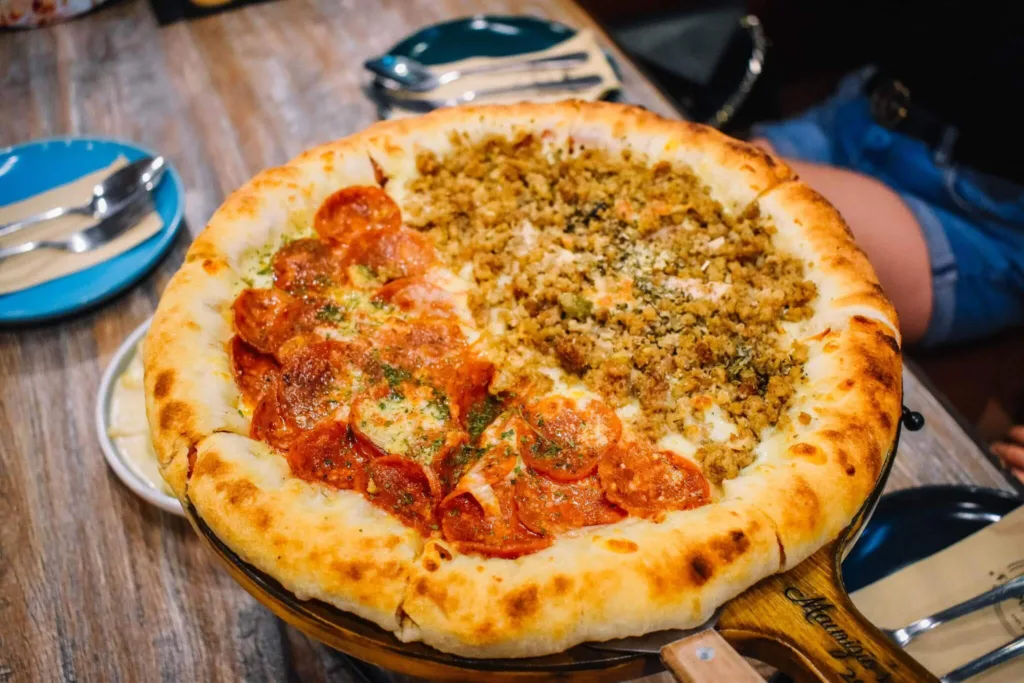 The service is also quick and attentive while keeping the ambiance cozy.
Their servings are generous for the price you pay.
Beer and wine from Italy are also available here, which makes your dining experience even better.
Their best-sellers are La Suprema Pizza, Aglio Olio Gamberi Pasta, Quatro Formaggi Pizza, Salsa Rosa Pasta, and Fruit Di Mare Misto Pasta.


Whether you're a vegan, vegetarian, or looking for authentic Italian pizza, this spot has it all.
From pasta selections to the most Instagrammable classic pizza slices, Maurizio's Pizza is sure to satisfy your cravings.
What's more?
The restaurant allows pets on-site so long as they're in a pet bag carrier.
On top of that, ample parking spaces are available, so you can find a place to park easily.
However, it would be best to make reservations in advance as the place has limited space for dining.
Buon appetito and enjoy your food trip at Maurizio's Pizza!
Maurizio's Pizza
Store Hours: Open Daily 11:00 AM – 9:00 PM
Address: L Arcada Complex Mcll highway, Tetuan, Zamboanga City
Contact Number: +63 956 164 7423
Landline Number: (062) 313 08 90
Facebook: https://www.facebook.com/mauriziositalianpizza
Instagram: https://www.instagram.com/maurizios.pizza/
Google Maps: https://goo.gl/maps/qcqMYfvE8sCkZb3P8
So, is your favorite part of this list? Let us know in the comment section what other restaurants we should try!