Where to Eat in Bacolod: 5 Must Visit Restaurants For Sure You Haven't Visited Yet!
Bacolod is often called the City of Smiles, and it's not hard to see why when you take a bite of their delicious cuisine.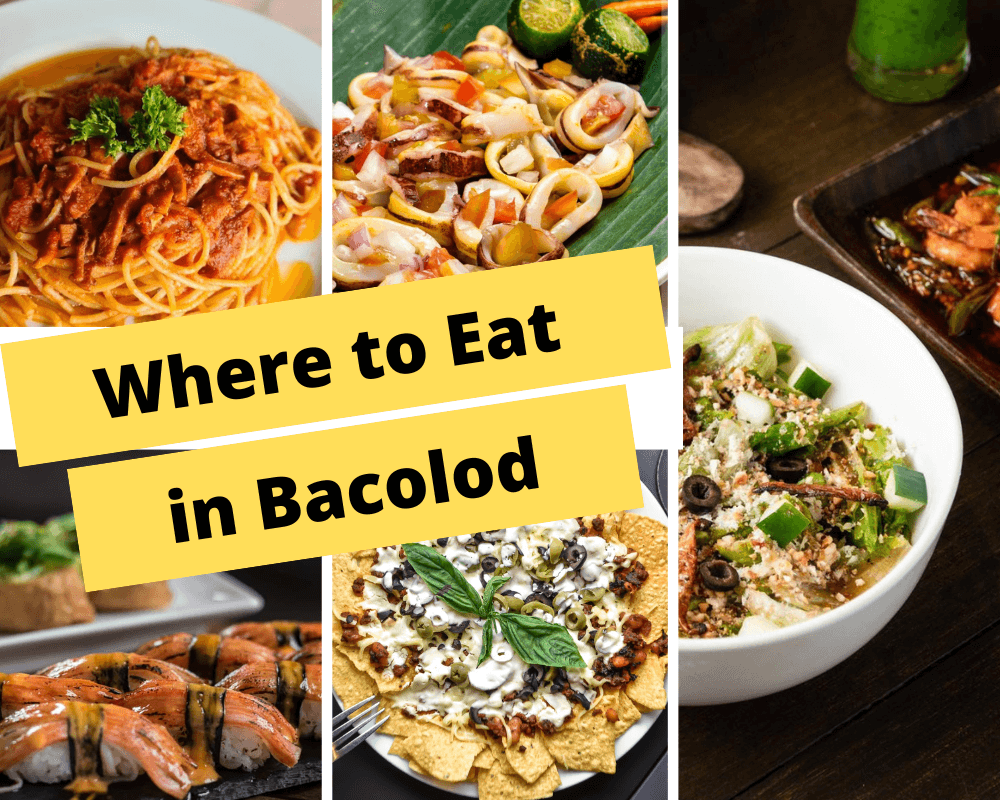 One of the must-visit destinations for any Bacolod food trip is Manokan Country.
You can try their famous chicken dishes like the famous Bacolod Inasal and Chicken Bacolod.
But that's not all Bacolod has to offer. There are also piping hot bowls of batchoy and fluffy puto bunuelos and sweet treats like piaya and sans rival.
And while you indulge in Bacolod's mouthwatering offerings, don't forget to take in the city's beautiful scenery and warm hospitality.
Here are some of the restaurants you can try when you visit Bacolod.
Maria Kucina Familia
If you're ever in Bacolod looking for a unique dining experience, we recommend checking out Maria Kucina Familia.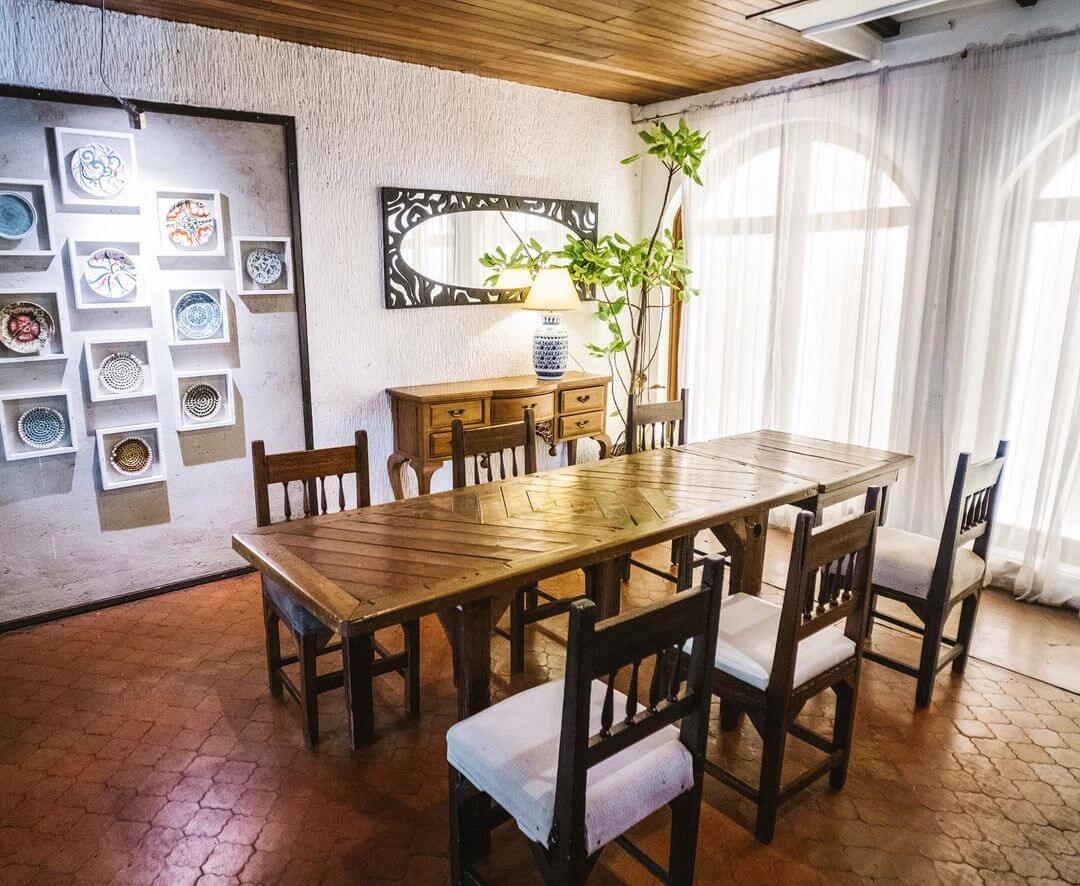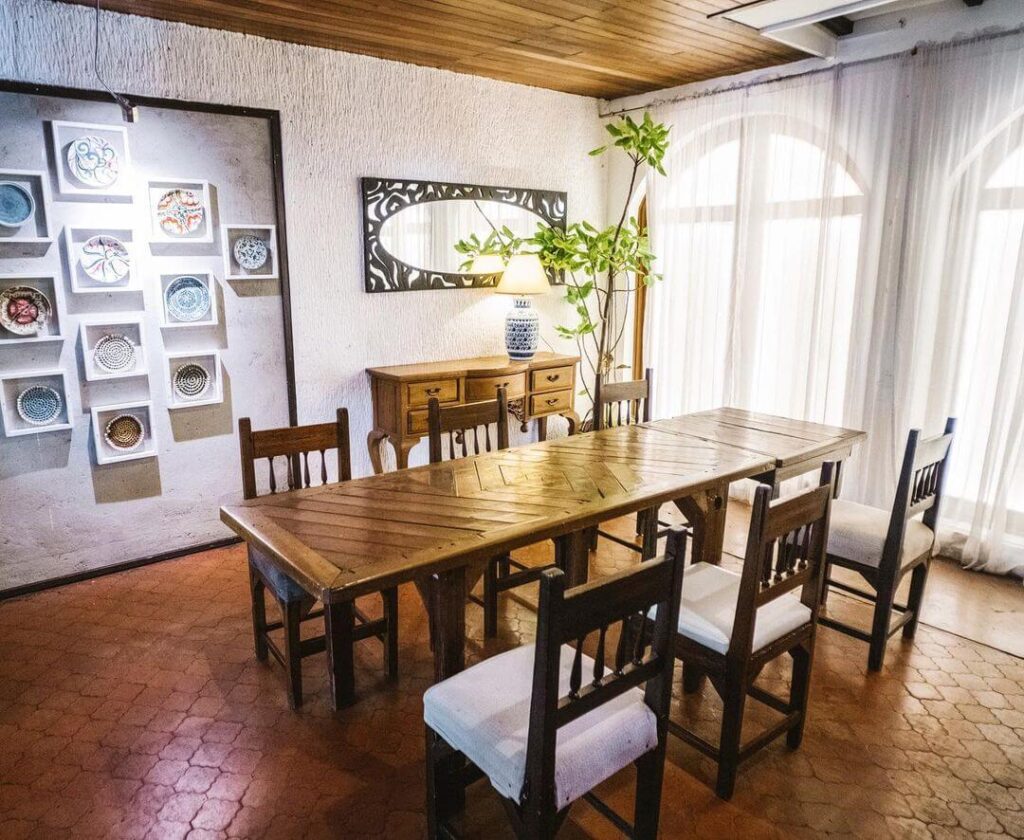 Located in one of Bacolod's old houses, it offers an authentic and cozy atmosphere while maintaining a safe and respectful environment.
The prices are fair, the food is delicious, and they source their ingredients from local farmers' markets. Plus, they have a variety of options for dessert and even pasalubong items available for purchase.
They are open daily for breakfast at 6 AM. Their Regular ala carte menu is available daily for lunch and dinner service from 10 AM to 2 PM and 5 PM to 9 PM.
Food to Try: Blue Cheese Salad, Fileto ala Maria, Paellitos Negros, Chorizo Recado, Chili Cripsy Pata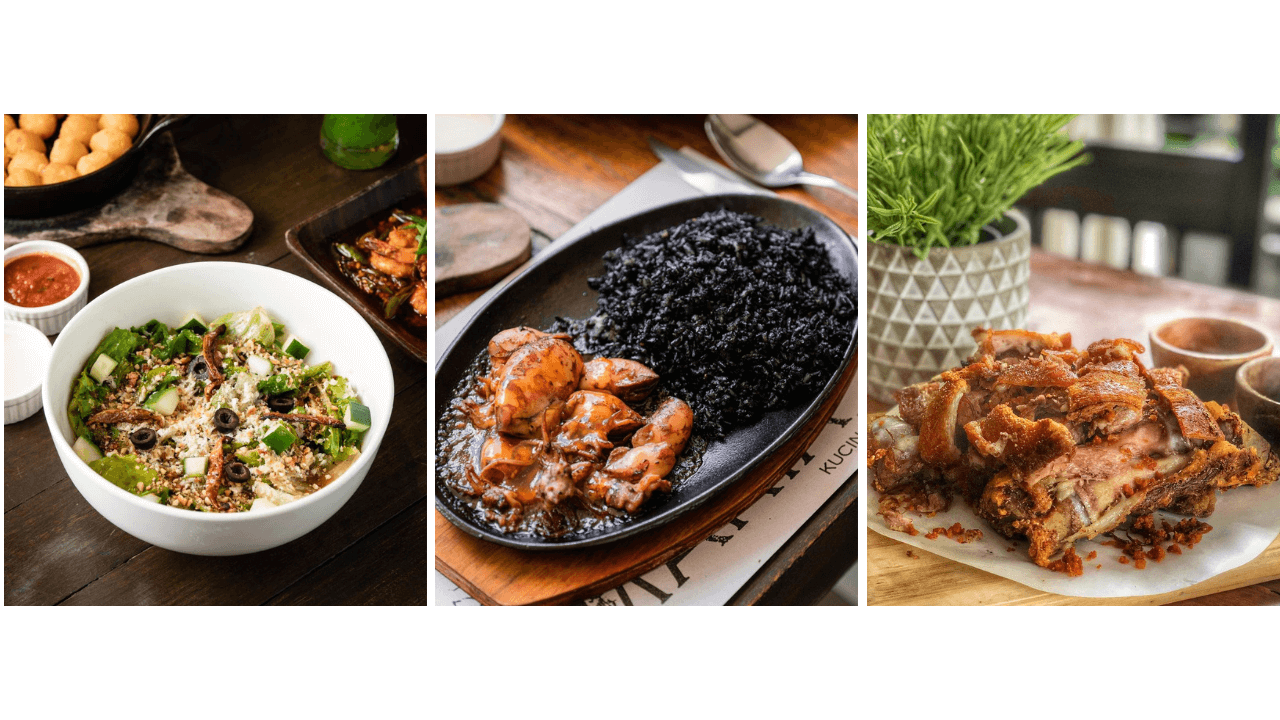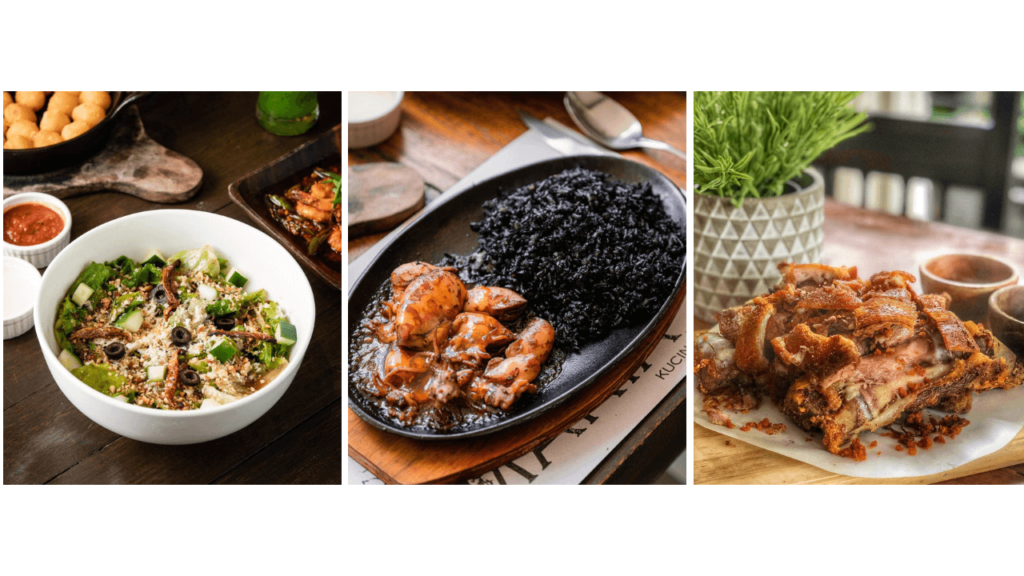 Vegetarian options include salads and greens; they can always remove the meat in their pasta dishes when requested.
Maria Kucina Familia is a pet-friendly restaurant. Fur-rents can bring their fur babies here.
Although they do encourage those with pets to dine in our alfresco area.
They have ample parking inside Maria as well as outside. Plus, they have security guards to help aid customers with their parking and ensure their safety.
If it's your first time trying Maria out, we recommend having an early lunch at around 10:30-11 so that it wouldn't be jam-packed with other diners.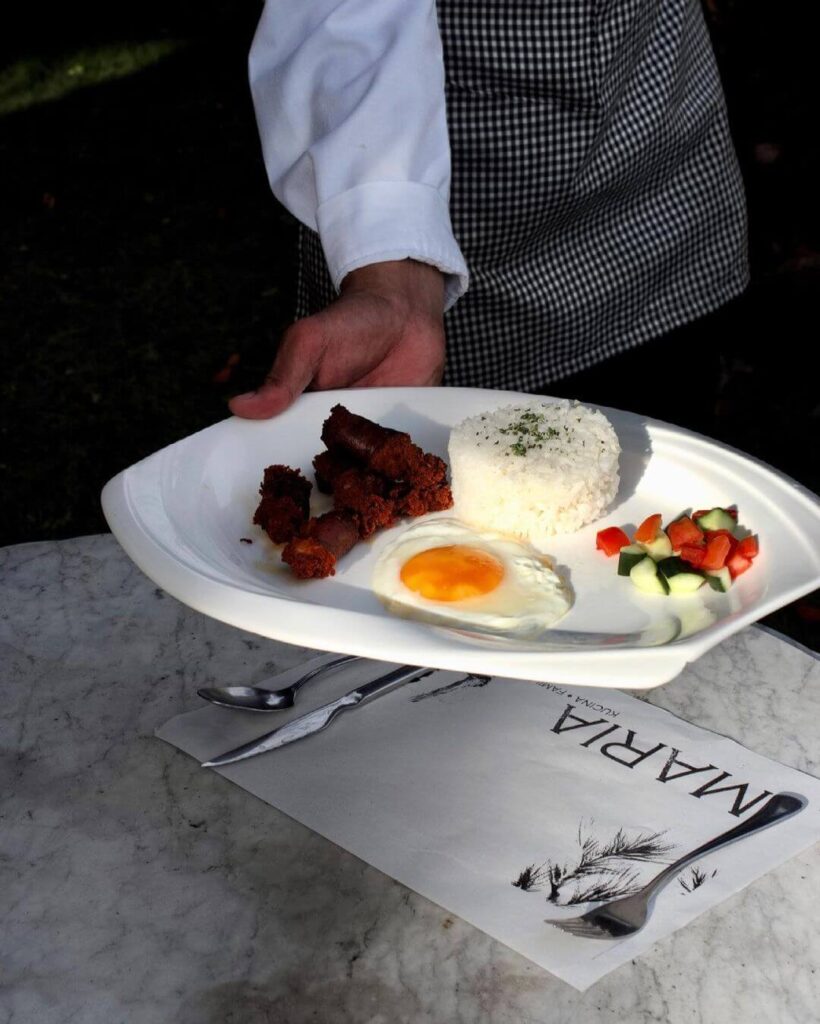 They accept walk-in customers, so reservations are not needed. Still, if you want to secure a table, they are only one call or message away.
They can reserve your table at least 1 day in advance. For same-day reservations, they will accept guests on a first-come, first-serve basis.
Maria Kucina Familia has a Smart Casual Dress Code.
Slippers for men and women; and open-toed sandals for men are not allowed. Sleeveless clothing for men is also not allowed.
Here is there sample menu: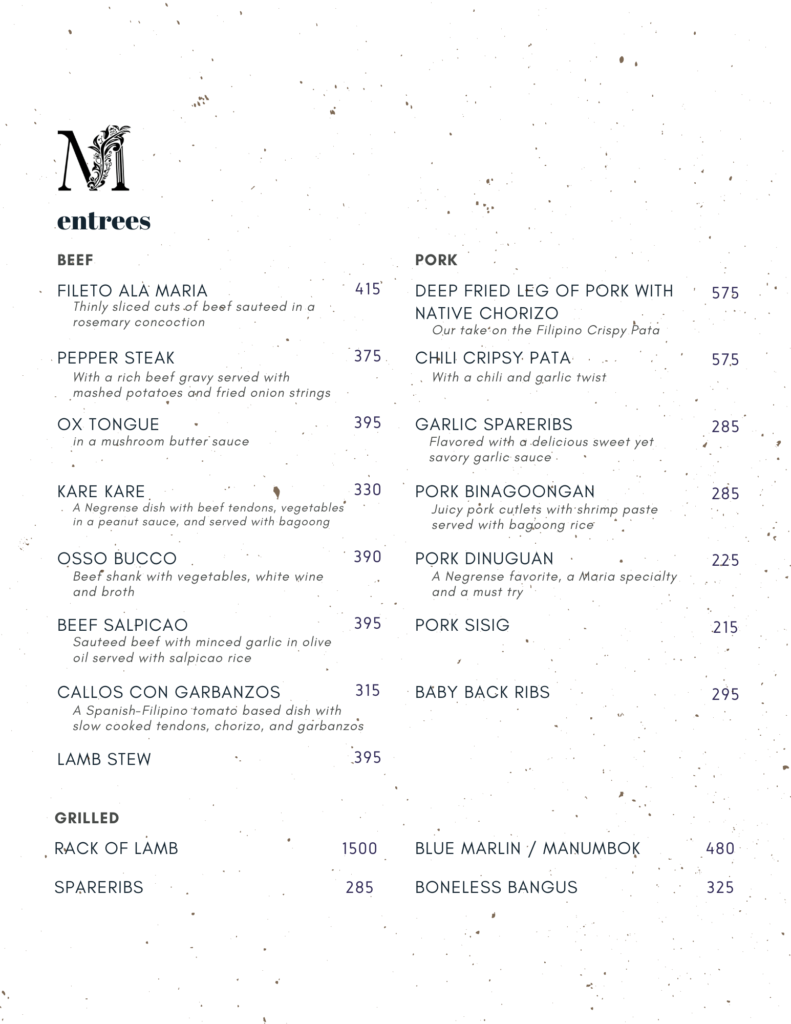 Maria Kucina Familia
Store Hours: Open Daily
6:00AM – 2:00PM and 5:00PM – 9:00PM
Address: Maria Kucina Familia, 24th Street, Bacolod, Negros Occidental, Philippines
Contact Number: +63 936 944 5416 | +63 919 814 0071
Website: mariakucinafamilia.com
Facebook: https://www.facebook.com/MariaKucinaFamilia/
Instagram: https://www.instagram.com/mariakucinafamilia
Google Maps: https://goo.gl/maps/czVvC6ovD5amPiK77
Nezu Modern Japanese
Are you a fan of Japanese food and looking for a new spot to add to your Bacolod food trip itinerary?
Look no further than Nezu Modern Japanese.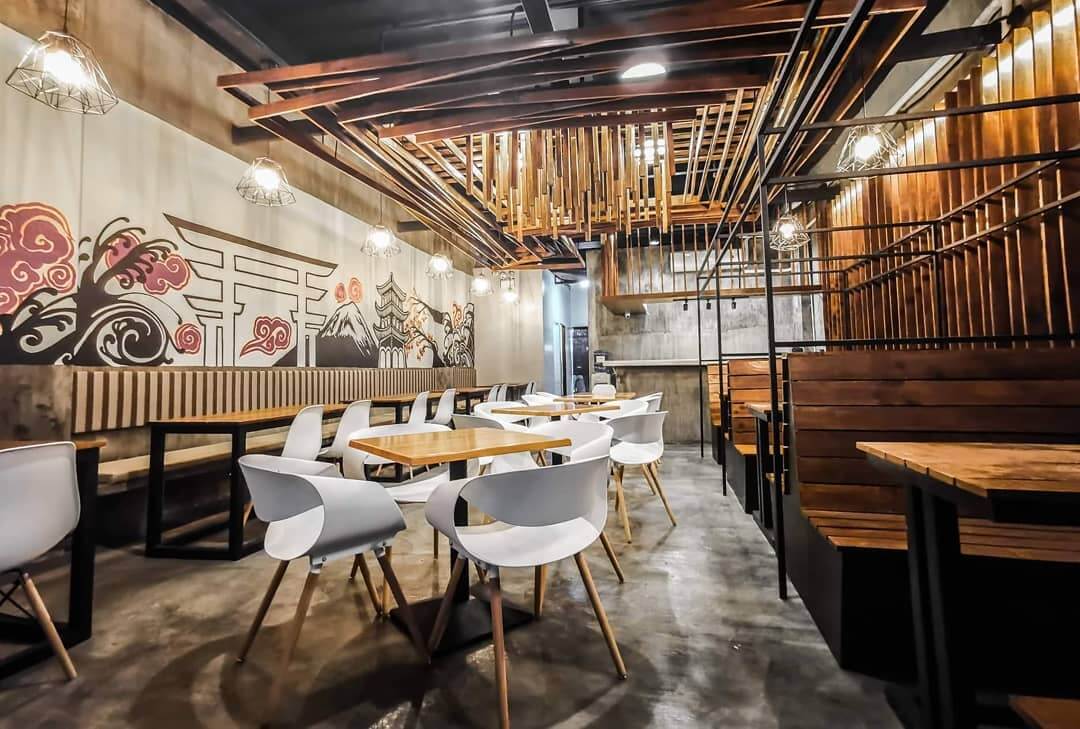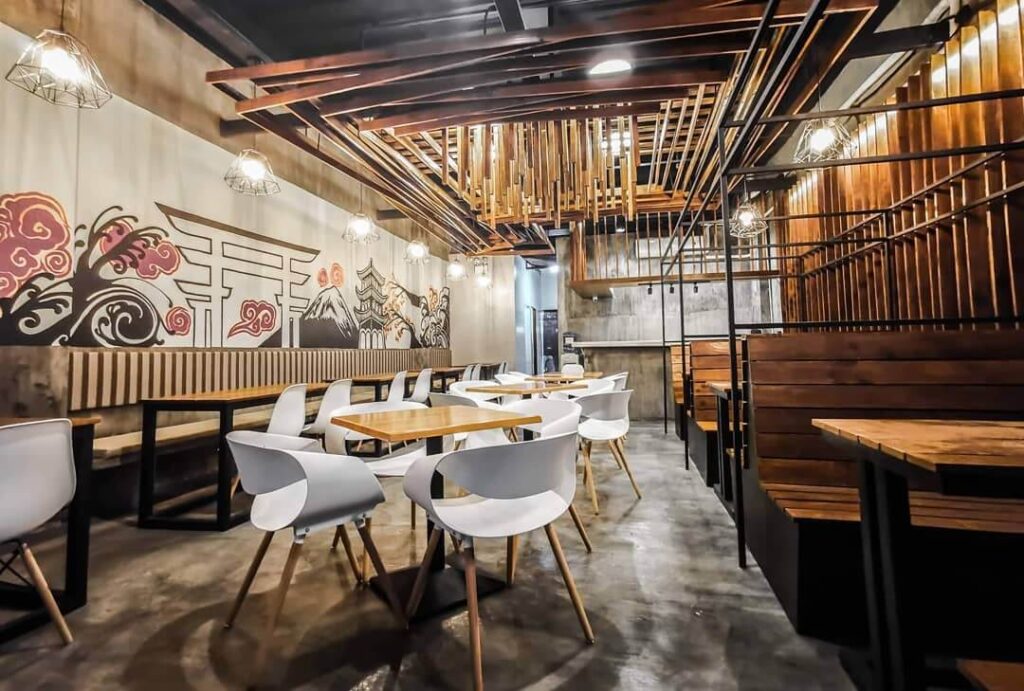 Their minimalist and modern interior set the perfect atmosphere for enjoying authentic, comfort food with a modern twist.
They have two locations in Bacolod – one in La Salle and one in Lacson – so no matter where you are in the city, you can easily reach them on your food trip.
And don't forget to ask about their limited-edition dishes!
From their delectable sushi rolls to their savory ramen, Nezu Modern Japanese is sure to satisfy your cravings for Japanese cuisine.
Food to Try: Aburi Spicy Crab Nigiri, Grilled Salmon Uramaki, Tantanmen, Spicy Miso Ramen, Karaage Chicken with Sticky Soy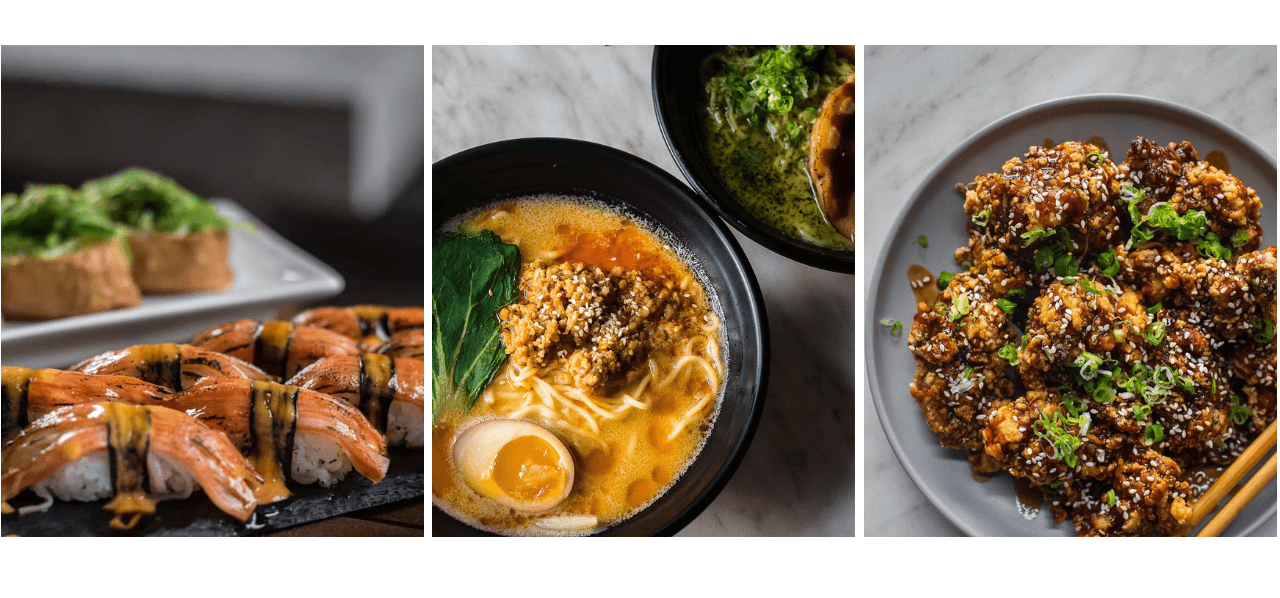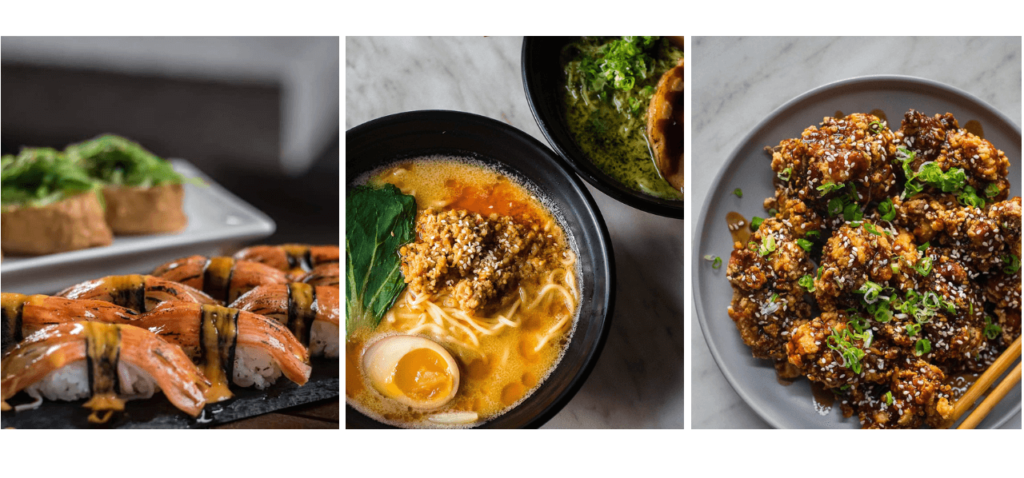 Their only vegan option on the menu is Seaweed Inari Sushi.
In the Nezu Lacson Branch, Pets aren't allowed, but in Nezu Lasalle Branch, pets are allowed for the outdoor dining area only.
Nezu Lacson branch – Spacious. Got parking on both sides of the building, plus a 2nd-floor parking area
Nezu Lasalle branch – limited parking area.
The best time is coming early, around 11 AM for lunch, while for dinner, it's around 5 PM to 6 PM. This is to avoid lunch or dinner rush hour.
If you ever plan to visit Nezu Modern Japanese, be early on weekends to get good seats and check out their monthly specials!
Here is there sample menu: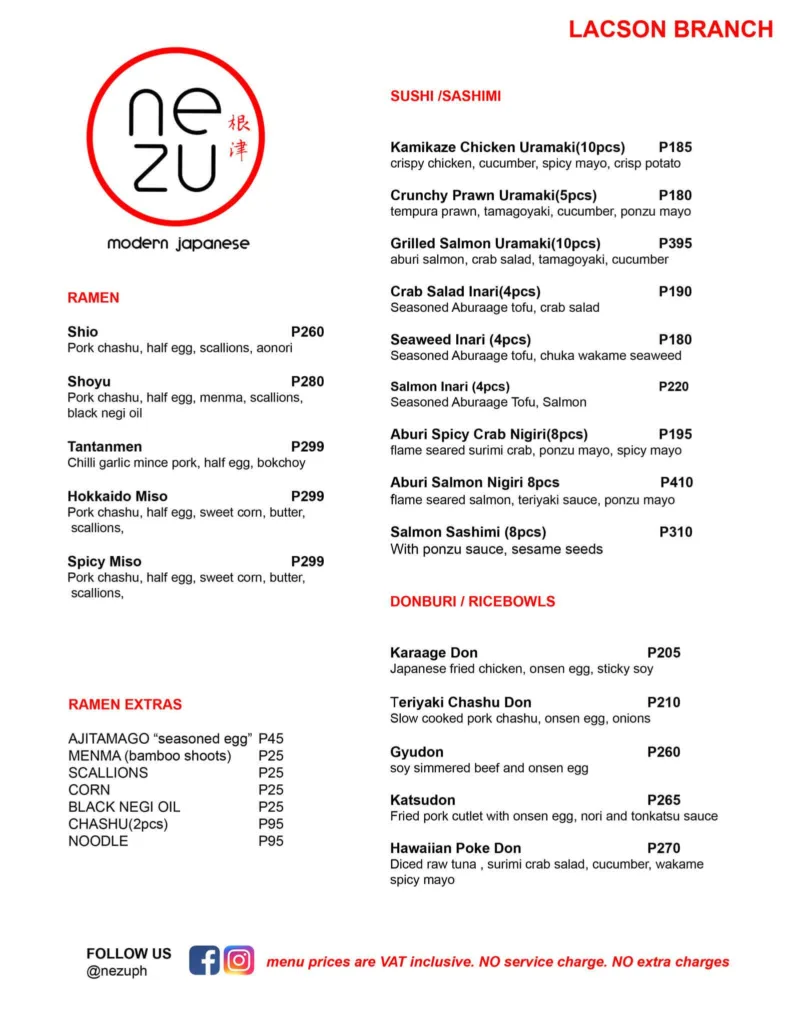 Nezu Modern Japanese
Store Hours:
Monday to Thursday – 11:00AM – 2:00PM and 4:30PM – 8:00PM
Friday to Sunday – 11:00AM – 2:00PM and 4:30PM – 8:30PM
Address: 19-20th Lacson Street 6100 Bacolod CIty
Contact Number: (034) 445 7392
Facebook: https://www.facebook.com/nezuphilippines
Instagram: https://www.instagram.com/nezuph/
Google Maps: https://g.page/nezu-modern-japanese?share
Italia Restaurant Bacolod
Bacolod is known for its delicious food scene. Italia Restaurant Bacolod is one place you don't want to miss on your food trip.
Not only does the restaurant serve excellent Italian cuisine, but they also have a commitment to serving fresh foods for the best value.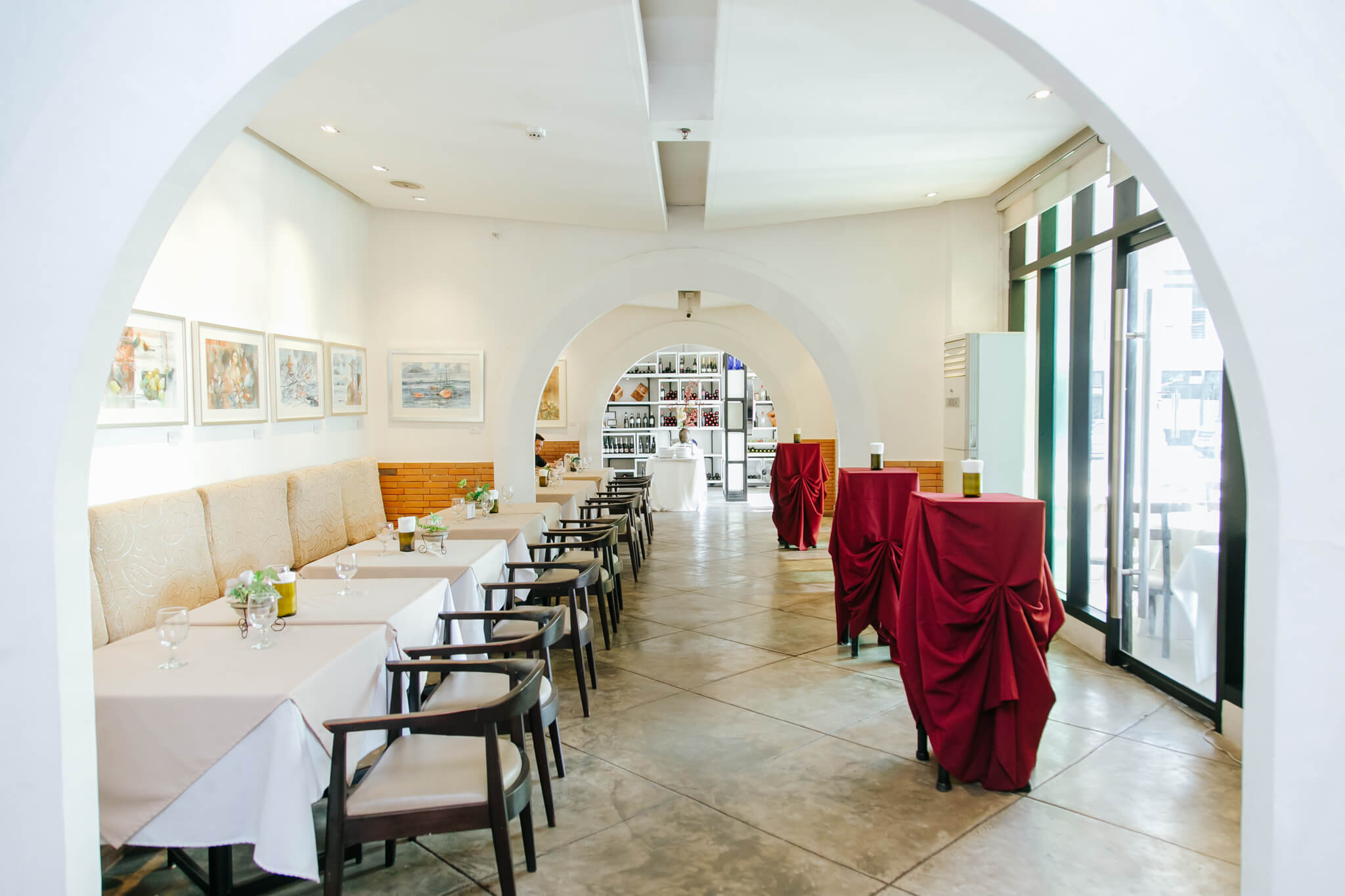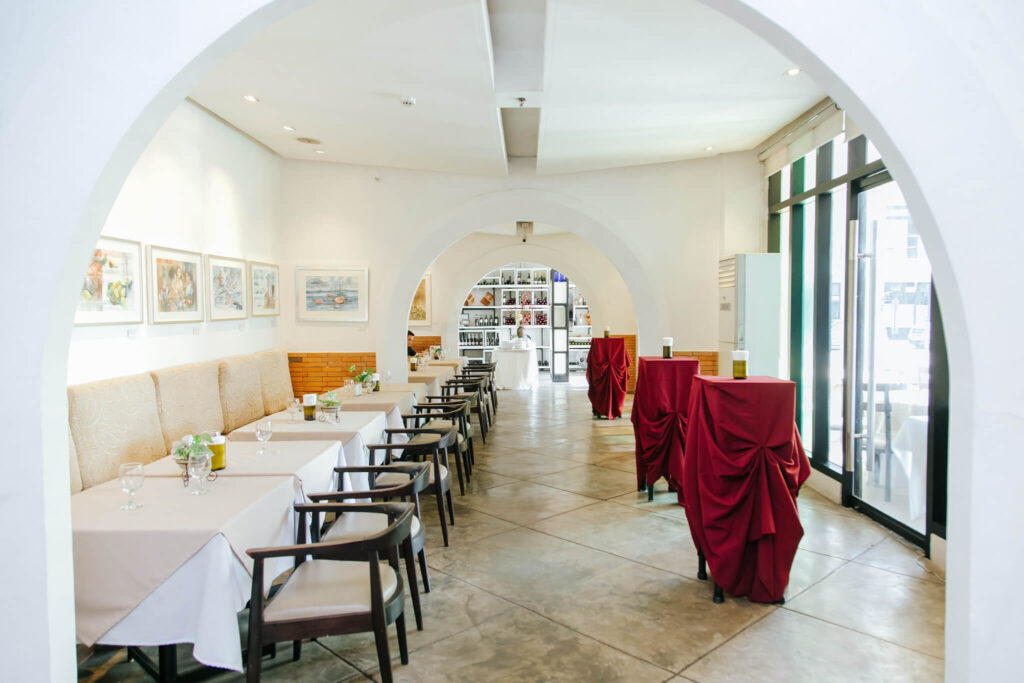 And if that wasn't enough, Italia Restaurant Bacolod also showcases art and culture, with beautiful paintings by Filipino artists adorning the walls.
The restaurant even hosts art exhibits from time to time.
With an elegant and well-lit atmosphere, dining at Italia Restaurant Bacolod truly adds an extra layer of enjoyment to your Bacolod food adventure.
Food to try: Baked Oysters, Beef Carpaccio, Farfalle Funghi Truffles, Linguine ai Calamari, Ribeye steak and Pizza Suprema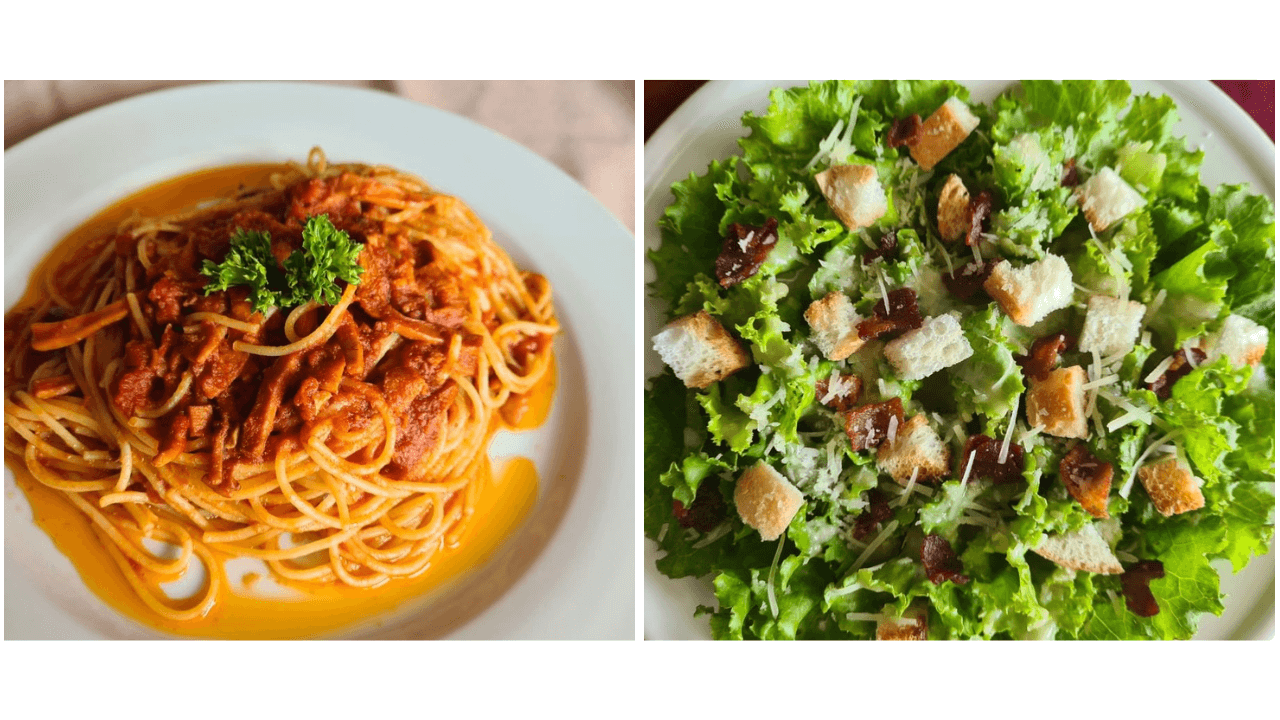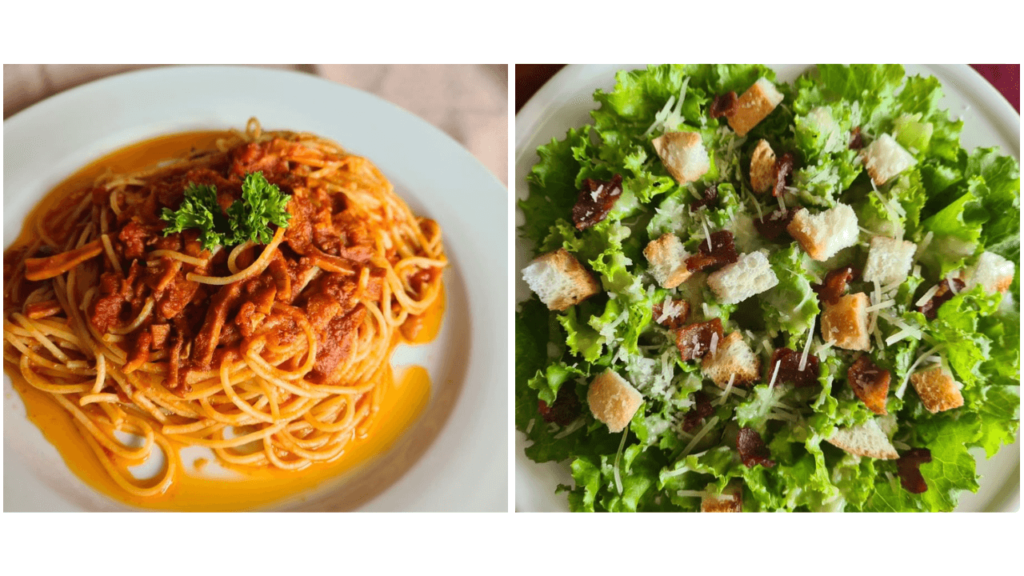 They do have vegan and vegetarian options.
As for pet owners, they do allow pets in the restaurant but only during off-peak hours (2:00 PM to 5:00 PM)
I suggest you call in advance for big groups to ensure you have a table. Italia restaurant is often full.
Here is a sample of their menu: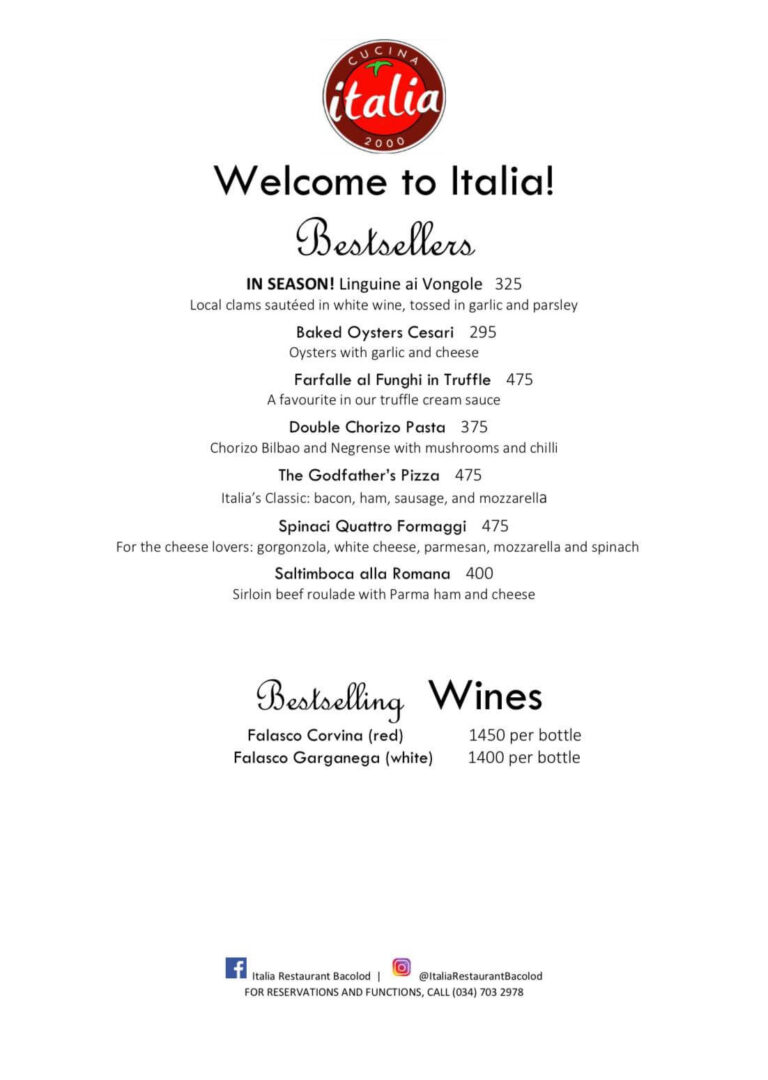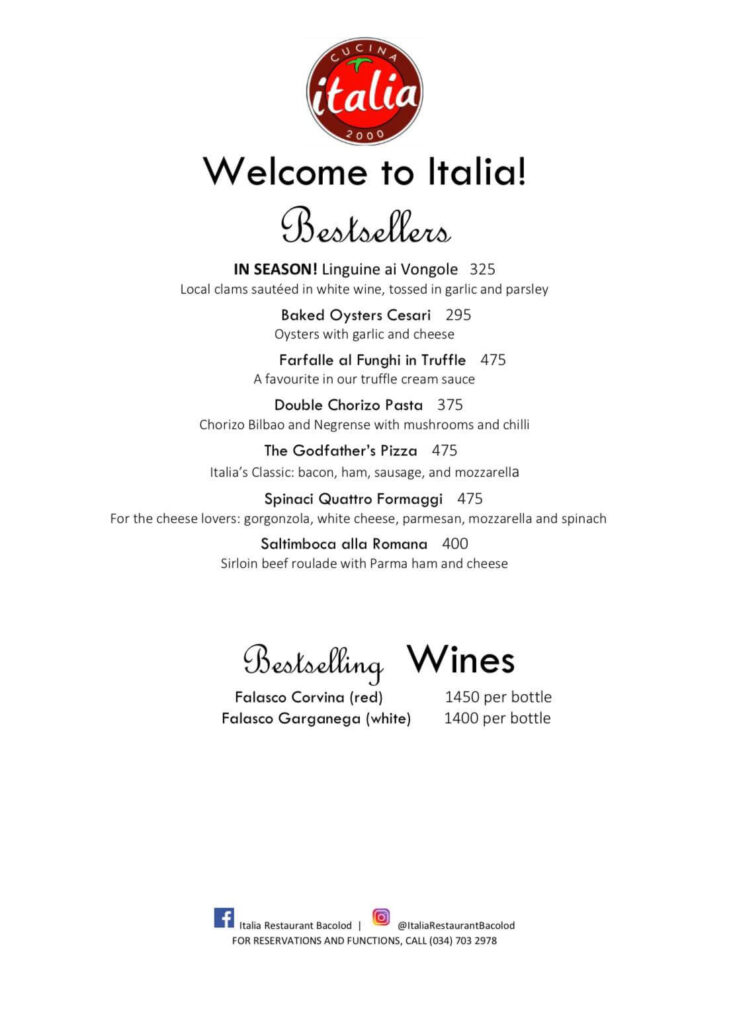 Italia Restaurant Bacolod
Store Hours: Open Daily
11:00AM to 10:00PM
Address: G/F Paseo Verde Building, Lacson St, Bacolod, 6100 Negros Occidental
Contact Number: 034-703-2978 | +63 916 281 7521
Facebook: https://www.facebook.com/italiarestaurantbacolod
Instagram: https://www.instagram.com/italiarestaurantbacolod/
Google Maps: https://g.page/italiarestaurantbacolod?share
Esquinita Bar & Cafe
Are you looking for the perfect spot to have Bacolod's comfort food while enjoying crafted cocktails and live music?
Look no further than Esquinita Bar and Café! Opened in February 2022, this narrow and unique bar offers the best of Bacolod's music scene alongside delicious food choices, from merienda to bar time.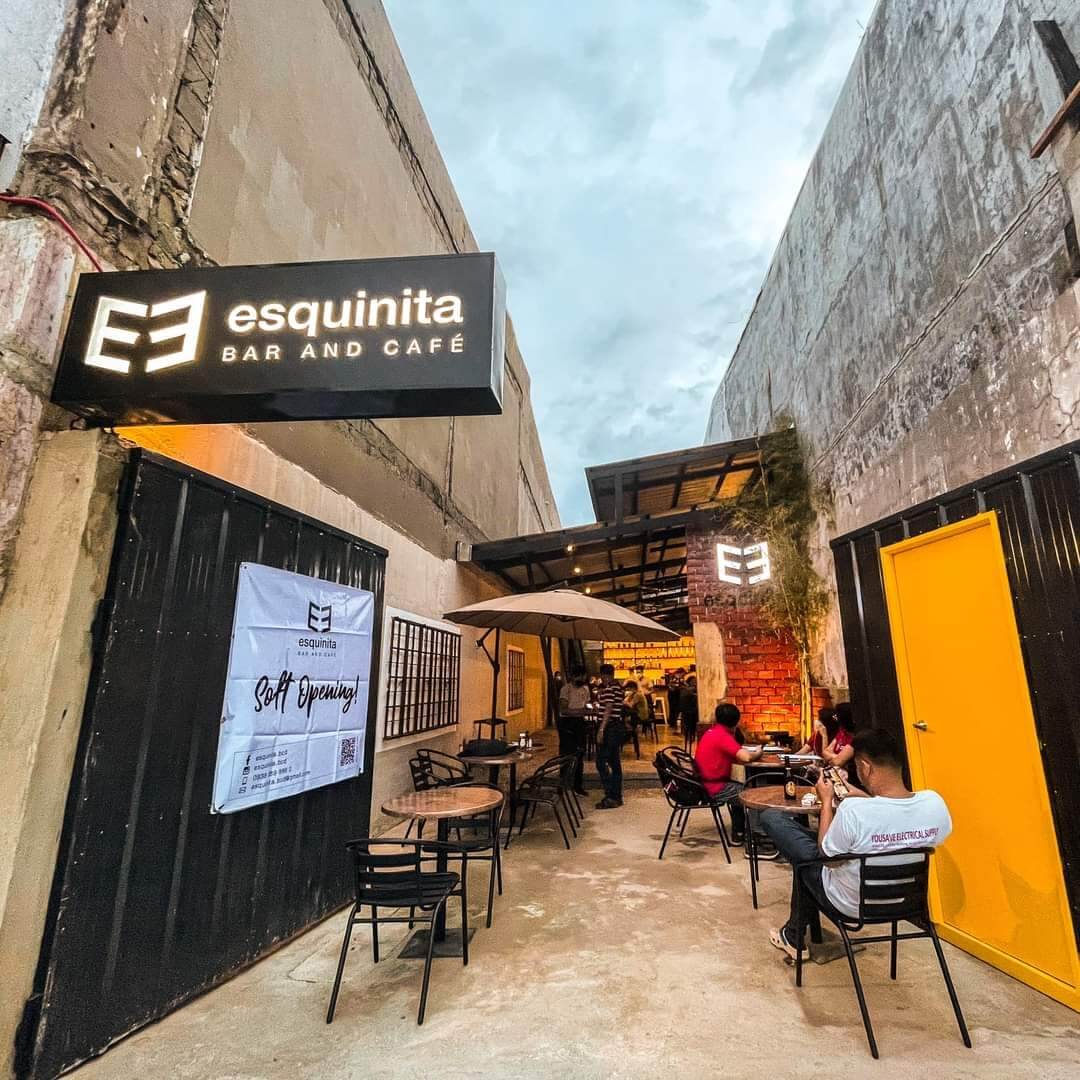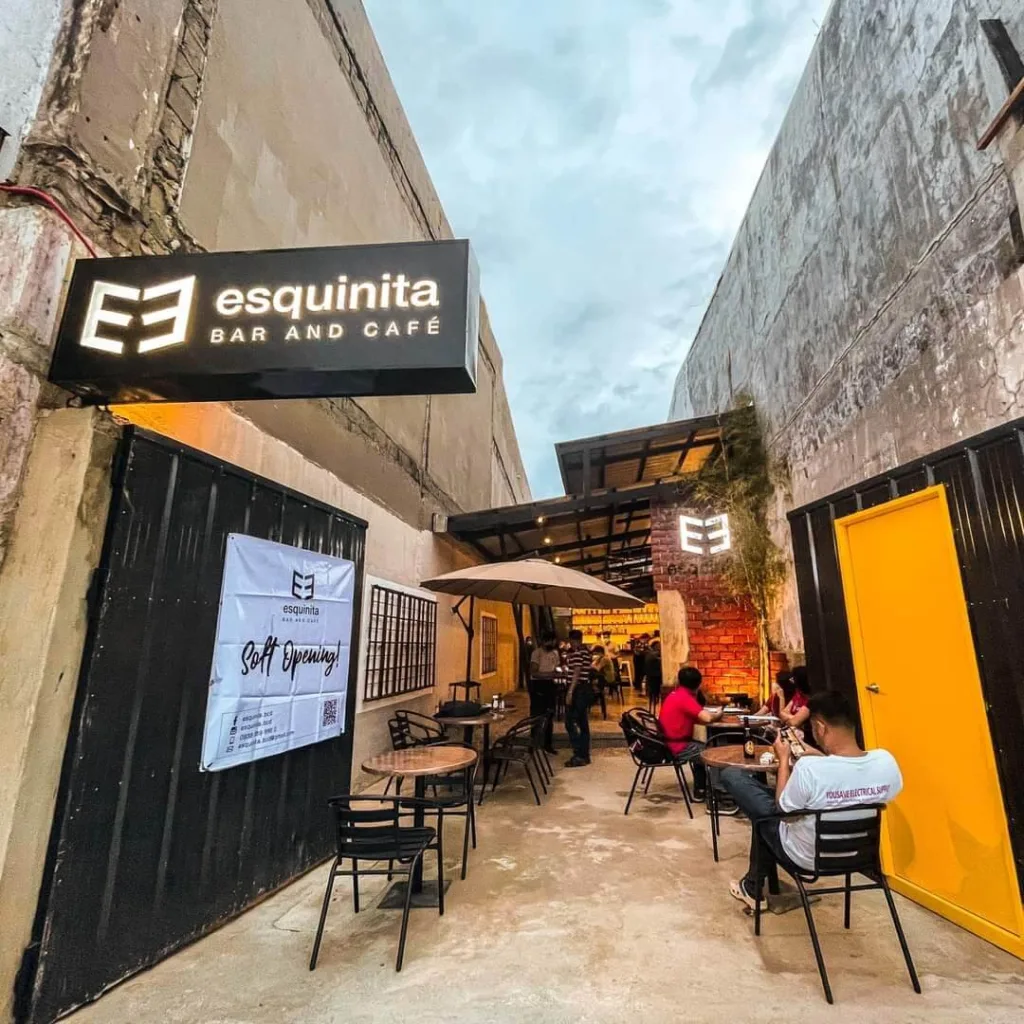 They only invite the best local musicians to guarantee a fantastic night of entertainment.
Don't miss their buy 1, take 1 cocktail hour from Tuesday to Sunday, 3–6 PM.
Food to try: Pizza Esquinita, Cansi Steak, Buttered Chicken with homemade gravy, EsquiNachos, and Seafood Marinara Pasta
Drinks to try: Amaretto Sour, Beer Below Zero Beers, Salted Caramel Coffee Iced or Frappe, and Cocktails of the Month.


Customers can bring their pets as long as they are responsible for their Furbabies!
Curbside parking is allowed in the area, and they have dedicated staff to assist with parking and safekeeping cars. They are the only establishment open on their operating hours at Narra Ave., so they virtually get the whole street as a parking space.
The bar is usually packed every Friday to Saturday. So if you want to experience Esquinita to the fullest –crowd, ambiance, food, drinks, music –you got to be here Friday and Saturday.
If you want a more chill vibe, you can come on Weekdays to enjoy the same vibes but with less crowd.
They also have a small exclusive room at the rear of the restaurant called "The Back Room," where you can enjoy exclusive and private parties for a maximum of 20 persons.
The Back Room is equipped with an up-to-date KTV machine, 55 inch LED TV for presentations, and JBL speakers and microphones.
Here is a sample of their menu: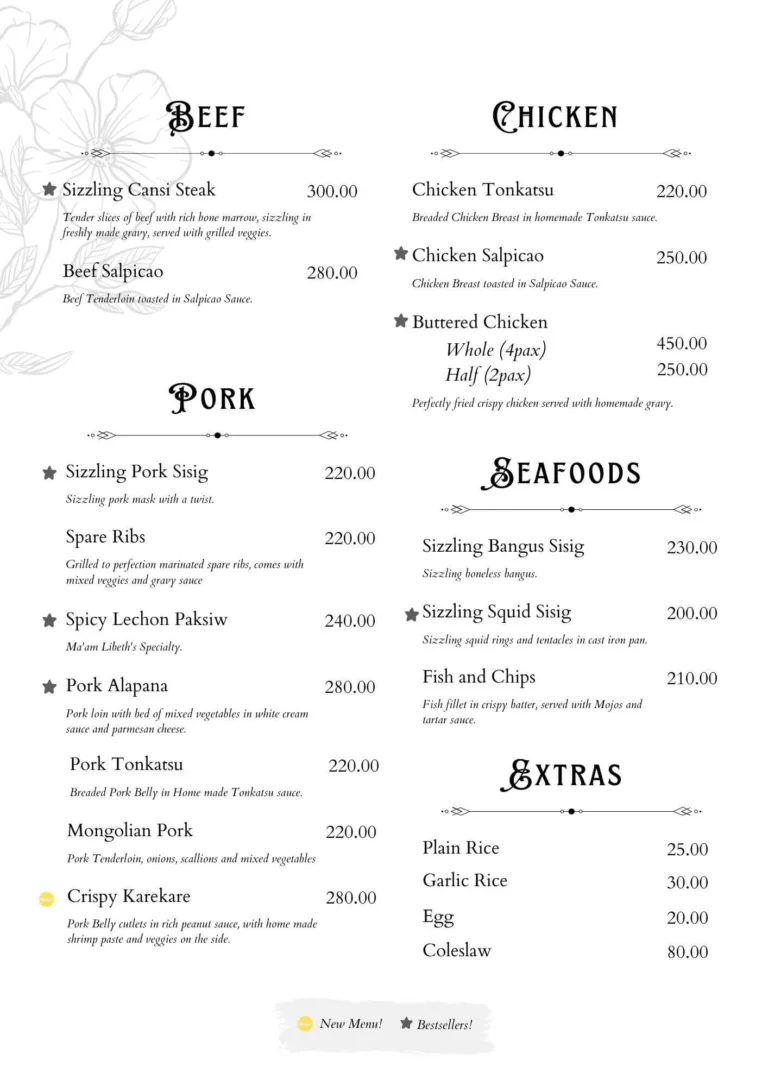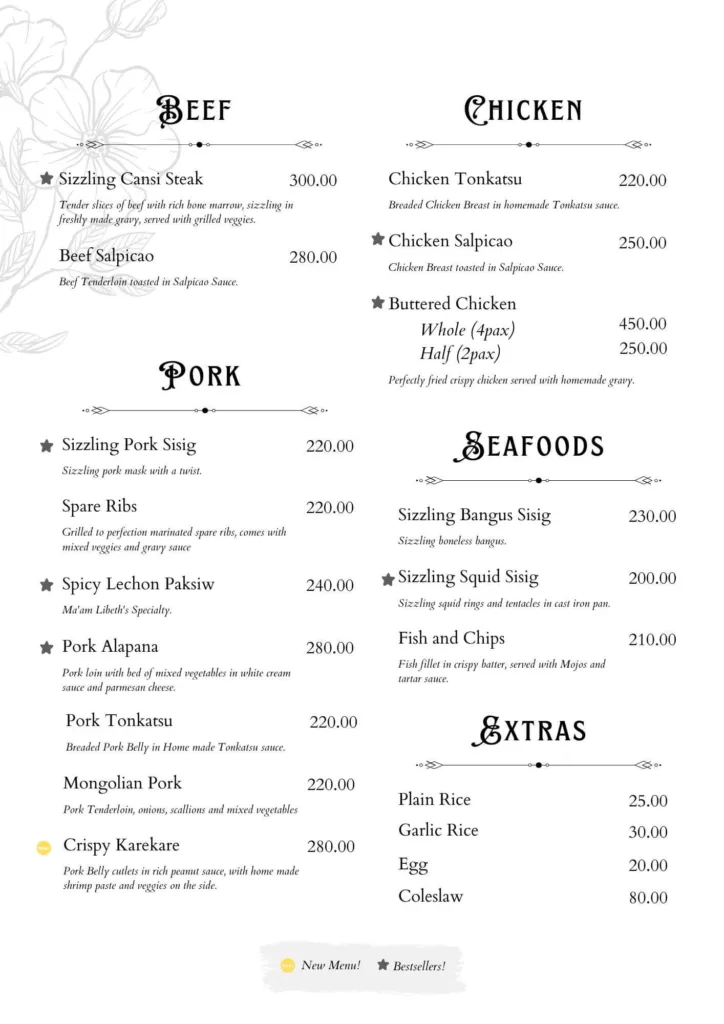 Esquinita Bar and Cafe
Store Hours: Tuesday to Sunday
3:00PM to 1:00AM
Address: Narra Avenue, Bacolod City
Contact Number: +63 938 889 8880
Facebook: https://www.facebook.com/esquinita.bcd
Instagram: https://www.instagram.com/esquinita.bcd/
Google Maps: https://goo.gl/maps/A3Xox5SiTTX4JYuT7
Aboy's Restaurant
Among Bacolod's many delicious dining options, Aboy's Restaurant stands out as a must-try for any foodie.
Aboy's has been serving delectable Filipino dishes since 1992.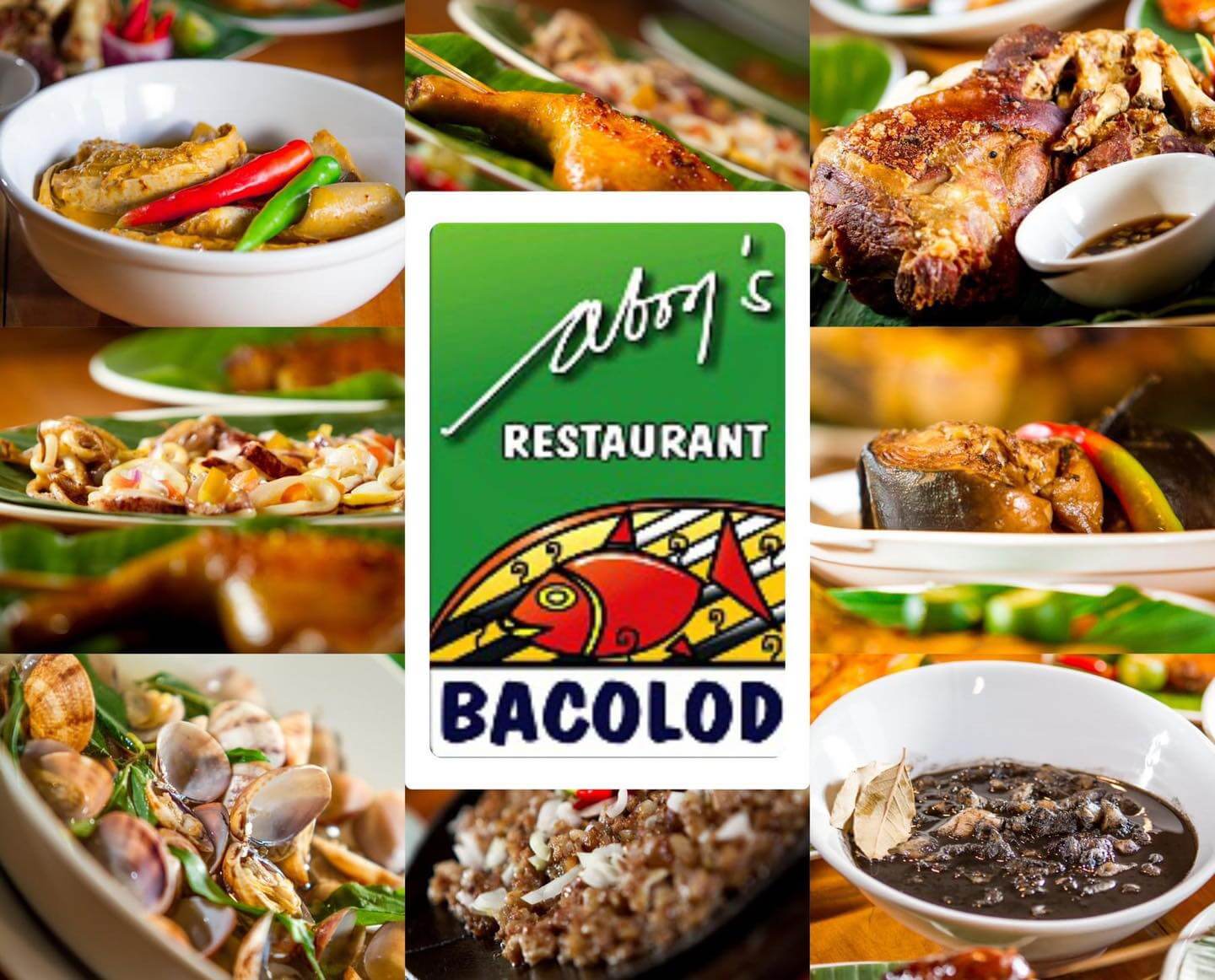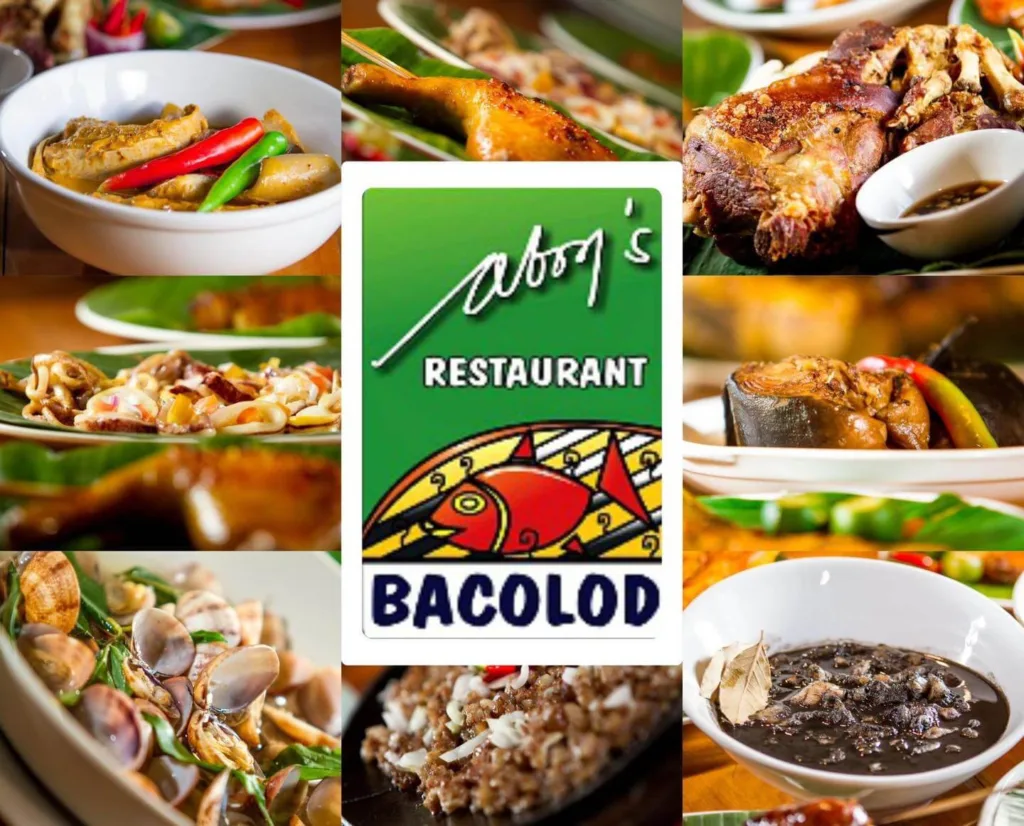 They follow a farm-to-table approach, sourcing ingredients from their own natural farm and garden. Their seafood dishes are especially noteworthy, with each piece perfectly cooked and bursting with flavor.
The restaurant's warm and inviting atmosphere adds to the overall dining experience.
They have even been recognized as one of Asia's top 500 restaurants by The Miele Guide.
Food to Try: Grilled Blue Marlin, Pangat (Laing), Squid Fats, Sautéed Mushroom, Grilled Pork Belly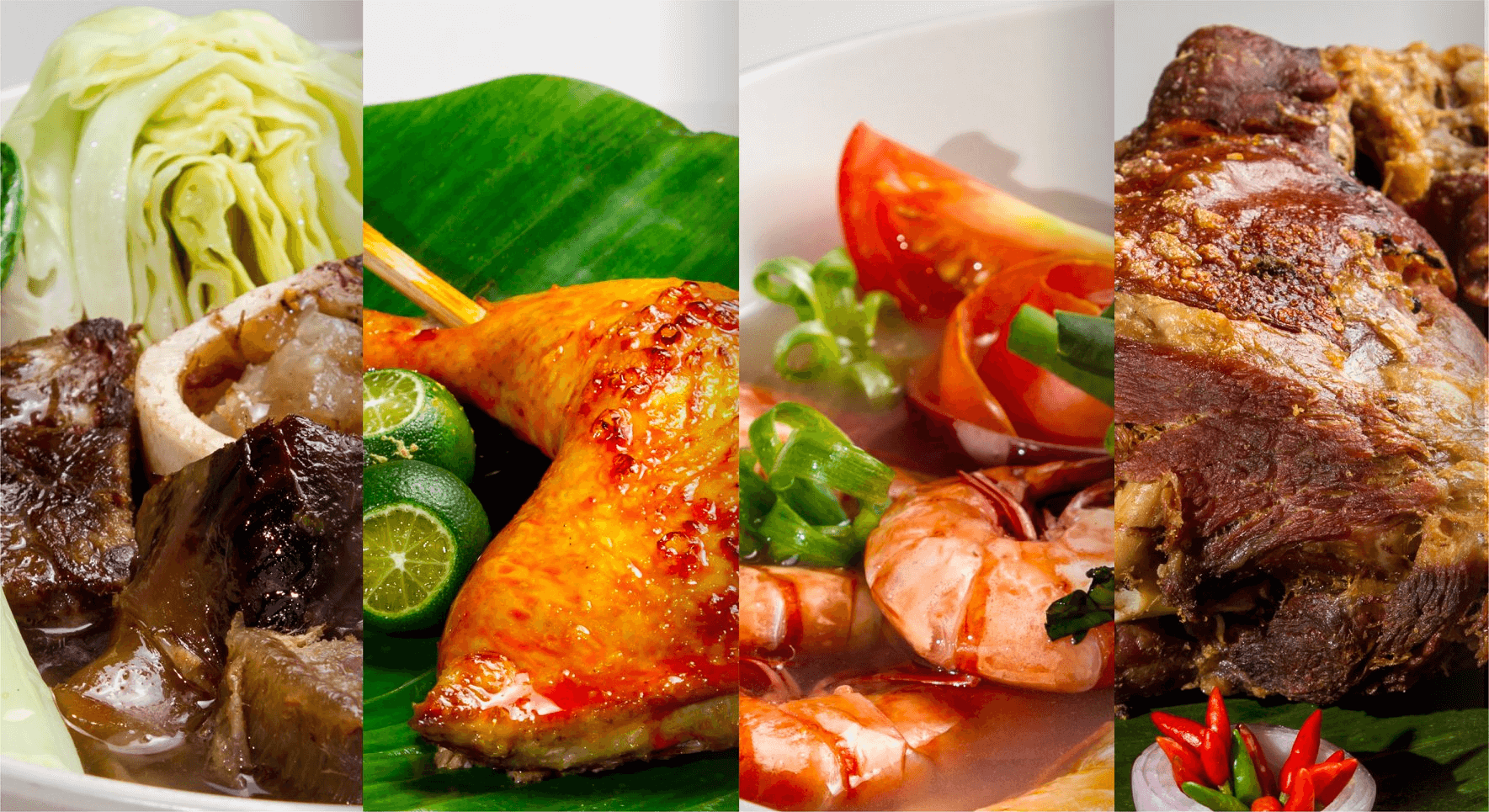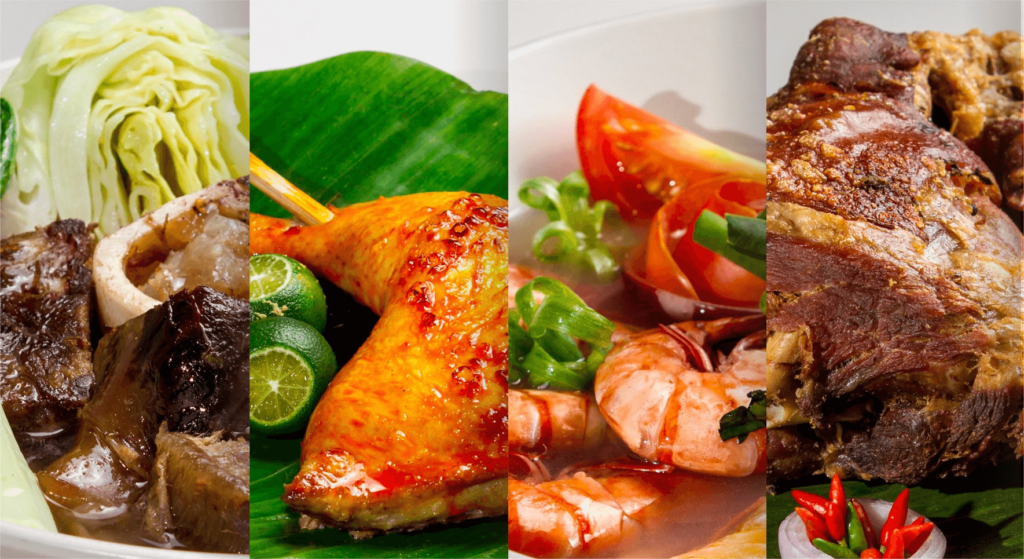 They offer special mixed vegetables for pure vegan clients. They also serve Lumpiang Gulay, Sautéed Mushroom, Eggplant salad, and Ensaladang Puso ng Saging.
You can dine in their alfresco area if you plan to bring your pets.
Here is their sample menu: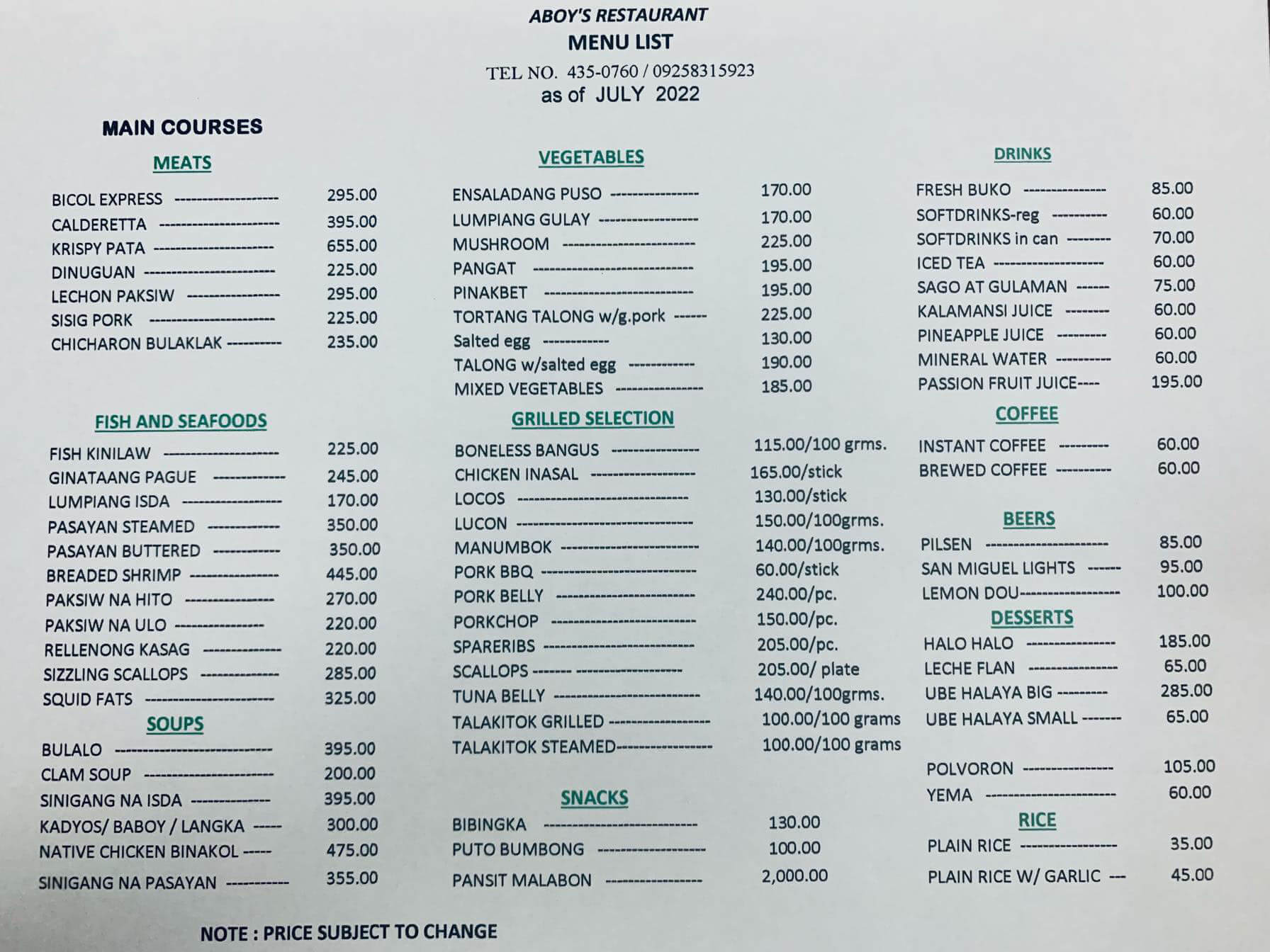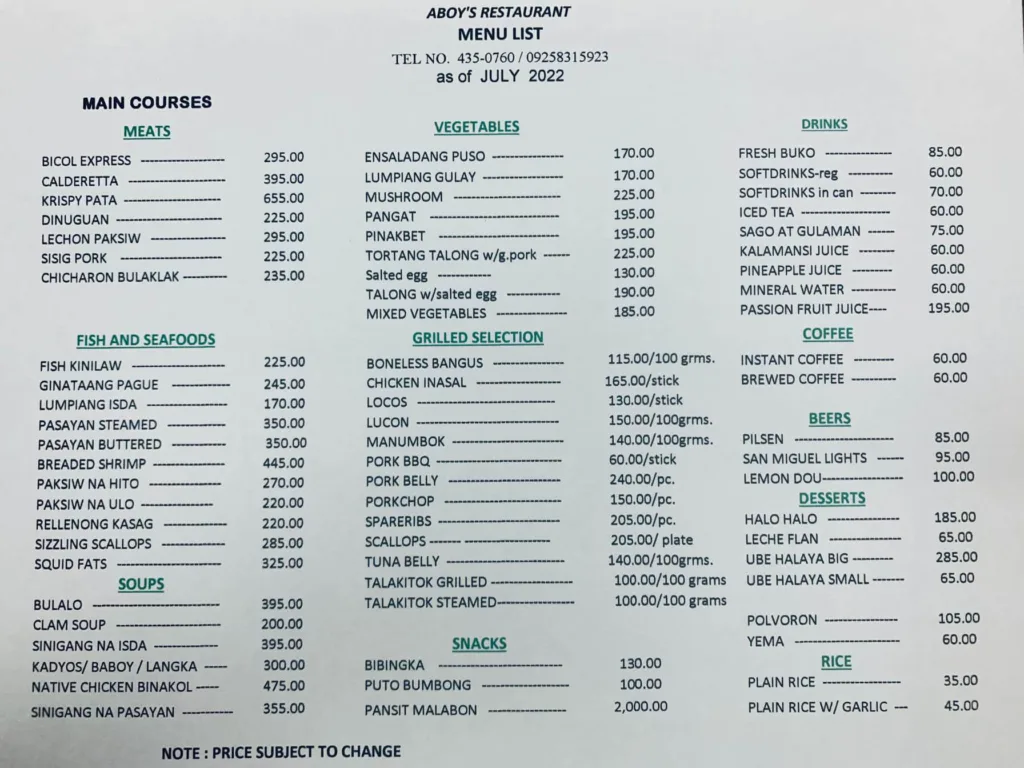 Aboy's Rest
aurant
Store Hours: Monday to Saturday
10:00AM to 9:00PM
Address: Goldenfield Commercial Complex, Liroville Subd., Bacolod City, Negros Occidental
Contact Number: 034 435 0760 | 435 2340 | +63 925 831 5923
Facebook: https://www.facebook.com/profile.php?id=100063795436380
Google Maps: https://goo.gl/maps/Bevqf5s68hTY8RSL8
Whether you want some street food or dining at a fancy restaurant, Bacolod is the perfect destination for any foodie looking for their next culinary adventure.
So come on, let's start planning your Bacolod food trip now!